New Anime That Will Blow You Away In 2018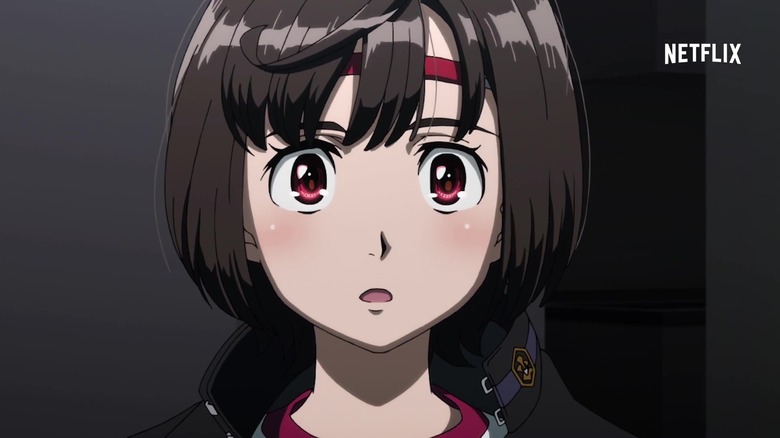 Netflix
There's been a lot of doom and gloom in the anime community over the past few years, with many insiders suggesting that the industry is in a state of decline. In 2015, Evangelion creator Hideaki Anno said that Japanese animation had "already peaked" and predicted that it would "collapse" within the next few decades, and he isn't the only one to voice such an opinion. Living legend Hayao Miyazaki has also complained about the state of the industry in the modern age, calling today's animators "otaku" (obsessive fanboys) with no life experience. "[They] don't spend time watching real people," the Studio Ghibli founder said in a TV interview (via The Escapist). "[They're] humans who can't stand looking at other humans."
Japan has a deep-rooted problem with young men withdrawing from society (they call it hikikomori) and there is probably some truth to the argument that this has had a knock-on effect on the anime industry, but that doesn't mean there's no talented up-and-coming creators out there right now. Feature length filmmakers Mamoru Hosoda (Wolf Children) and Makoto Shinkai (Your Name) are both proving to be contenders to Miyazaki's crown, and there are handful of anime studios still willing to put the required time and funds into their shows. Sure, there'll be a lot of anime you can pass on this coming year, but here are the ones you can't afford to miss in 2018.
Angolmois
Studios aren't exactly tripping over themselves to put out period pieces in a time when the majority of anime fans seem to crave the escape of a fantasy setting, but we have at least one samurai saga to look forward to in 2018. In one of many interesting announcements made at LA's jam-packed Anime Expo 2017, producer Kadokawa revealed (via Honey's Anime) that studio NAZ is creating an adaptation of Nanahiko Takagi's bloody historical manga https://youtu.be/hyTRQSkRXiE, with Takayuki Kuriyama (Re:Creators) set to direct.
The manga is set in 13th century Japan at a time when great swaths of Asia were being conquered by the Mongol Empire. Neighboring Korea had already fallen, so when the Mongols brought their savage campaign to Japan's islands, the locals knew they had a fight on their hands if they wanted to remain independent of Mongol overlordship. In the end, the bickering samurai clans were able to put aside their differences and fend off the invaders in a series of hard-fought battles.
ISLAND
There have been a number of well-received anime based on visual novels (multiple choice video games that contain mainly static graphics and very little actual gameplay) in recent years, and Frontwing is hoping that their latest VN-to-anime adaptation will be one of the success stories of 2018. According to Anime News Network, the developer is teaming with publishing partner Prototype to bring the dystopian world of ISLAND to television screens, a world that is likely to attract a wide-ranging audience with its deft mixture of genres.
In the VN, the inhabitants of Urashima (the titular island) have cut themselves off from the mainland after the breakout of a deadly disease, though when a naked outsider with amnesia washes up on their shores a dark mystery begins to unfold. According to one happy VN reviewer, ISLAND benefits from an "enthralling plot that keeps you on the edge of your seat with its never-ending twists [and] an epic story with lots of adventure, mystery, romance, and tragedy."
Attack on Titan season 3
Hajime Isayama's Attack on Titan is one of the most popular manga being made right now, currently the second best-selling title of 2017. The story follows Eren Yeager, a high flying member of the Survey Corps hell bent on protecting mankind's last stronghold from the Titans, a race of monstrous giants who ate his mother alive in front of him when he was a child. Over the course of the first season (multiple spoilers ahead) we discover that Eren is actually one of a handful of humans capable of assuming a Titan form, and the second season finished on a cliffhanger by revealing that the walls supposedly keeping the humans safe are filled with Titans.
While there is no official episode count yet, Funimation released a 15-second teaser that gives us some clues as to where the story is heading. Those who read the manga will know that Eren sets out on an expedition outside the walls and finally reaches the ocean in the fourth and final chapter of the 22nd volume, where he discovers just how humans become Titans. The teaser ends with three Corps members overlooking the water next to the words "Behold, the sea...," which suggests we'll get to see at least that much play out onscreen in the third season, penciled in to air in spring 2018.
The Seven Deadly Sins: Revival of The Commandments
After space mecha Knights of Sidonia became their first ever anime acquisition in 2014, Netflix followed it up by purchasing the streaming rights to The Seven Deadly Sins, a medieval fantasy about the re-emergence of a disgraced order of magic-wielding knights. Led by their diminutive but jacked-up captain Meliodas, the Seven Deadly Sins are called upon to reunite and save the kingdom from its new tyrannical rulers.
Netflix's second original anime proved more popular than their first, receiving glowing reviews from newbies and anime fanatics alike. "From start to finish I was glued to my TV and couldn't turn away," What's On Netflix said in their review. "This is a perfect anime for beginners to jump straight into or for the veteran watchers it has that fantastic blend of fantasy, comedy and romance." Unfortunately, those same satisfied viewers turned on Netflix in February 2017 when they released what they claimed was The Seven Deadly Sins season 2.
The second season was supposed to have 24 episodes but for some reason only had four. The streaming giant (either in error or in slyness) labeled a four-part OVA special called Signs of Holy War as the second season, which fans were quick to pull them up on. The real second season (officially titled The Seven Deadly Sins: Revival of The Commandments) is scheduled to premiere in all its glory in January 2018.
ReLIFE OVA
Based on the ongoing web manga of the same name, ReLIFE (2016) is a slice-of-life anime that begins by introducing us to a 27-year-old man working a dead-end job in a mini mart. Stuck in a rut, Arata Kaizaki agrees to partake in a medical/social experiment that requires him to take a drug that makes him appear ten years younger and return to high school posing as a student. While he struggles to adjust at first, he soon comes to understand his young classmates and is able to draw conclusions about where he went wrong in his own life.
The 13-episode show was well received (achieving a very respectable score of 8.17 on My Anime List) but the one complaint was that we never got to see Arata's ReLIFE experiment come to a close. This left many assuming a second season was on the way, but we've recently learned (via Anime News Network) that Arata's story will actually come to an end with an OVA. While most fans will likely be disappointed with that outcome, it means that studio TMS Entertainment will be cramming the remainder of the arc into four 23-minute episodes, which should make for a short but sweet experience when it hits Blu-ray and DVD in March 2018.
Devilman Crybaby
A brand new ten-episode anime coming to Netflix in 2018, Devilman Crybaby is the story of a teenage boy who gets possessed by a demonic entity and starts going by the name Devilman. In the original manga by Go Nagai, protagonist Akira Fudo actively seeks out this possession on advice from a friend, hoping that his strong heart will allow him to remain himself while harnessing the demon's power against its own kind. Toei Animation took a slightly different tact when they first adapted the property into an anime back in 1972, and judging from the description provided by Netflix, their revival (which will be handled by studio Science SARU) will follow a similar path.
In Toei's Devilman, Akira is a timid teen who is killed alongside his father while trekking in the Himalaya. The spirit of Devilman then enters his lifeless body and poses as Akira as he attempts to orchestrate a demonic invasion of earth. His plans hit a roadblock in the form of Miki, Akira's childhood friend—before long the demon warrior has fallen head over heels for her and vows to protect her and the rest of humanity from his own kind.
A.I.C.O Incarnation
The people behind modern classic Fullmetal Alchemist as well as recent hits My Hero Academia and Mob Psycho 100 are back with a new anime in 2018, though unlike these titles, A.I.C.O Incarnation isn't based on an existing manga or web series. The near-future set show is being described as a "bio science fiction" by Netflix, whose team-up with studio Bones has fans expecting something special when it drops online in spring 2018.
Inverse is calling A.I.C.O Incarnation "Netflix's next great anime" and is already drawing comparisons to Darker Than Black (also by Bones) and Ghost in the Shell. The trailer focuses on an action set-piece which gives us an in-depth look at the show's terrifying premise—a substance called "the Matter" is accidentally created during experiments into artificial intelligence and begins to devour everything in its path.
The story follows a 15-year-old girl whose parents were killed during the accident that created the Matter. Aiko Tachibana learns that her real body is back at ground zero and she has been inhabiting a replica ever since the incident, known as "the Burst." To learn the truth about the Matter and stop its spread, Aiko must return to the spot her parents were killed.
Steins;Gate 0
Kadokawa also revealed plans for what they call the "Steins;Gate World Line Project 2018-2019" at the Anime Expo, which involves the release of a ton of new Steins;Gate media over the next few years. A new manga and novel are on their way according to Crunchyroll, but the biggest news as far as anime fans are concerned is that an adaptation of popular visual novel Steins;Gate 0 is coming to television screens as soon as 2018.
The VN debuted on the PlayStation 4 and PSV in 2015 and was favorably reviewed by critics and fans alike, earning a Metascore of 81. Described as "an amazingly well-written time travel adventure [and] one of the best visual novels ever made" by Kotaku, this mind-bending midquel (the whole thing is set in between the events of the first game's conclusion) lived up to the standard set by the original Steins;Gate, the VN that spawned the media franchise.
That game was made into an anime back in spring 2011 with overwhelmingly positive results (the show has a huge 9.15 rating on My Anime List and is ranked 5th on their all-time best list), so studio White Fox is under pressure to make another hit.
Fairy Tail final season
Many younger anime fans have grown up with Fairy Tail as ever present, but sadly the series is set to come to an end in 2018. The author of the original manga Hiro Mashima recently confirmed in both Japanese and English that the final season will be airing next year, bringing the long-running story of the eponymous magic guild to a close. We were introduced to Fairy Tail in the fall of 2009 and the show (which blends shounen elements with action, fantasy, and comedy) made an immediate impact, picking up the Animax Anime of the Year award in 2010.
In 2013, Anime News Network reported that Fairy Tail was to come to an end in March of that year, but it returned for another run between 2014 and 2016, bringing the total episode count (including prequel Fairy Tail Zero) to a whopping 277. We can expect the final season to take us over the 300 mark at least, and in terms of plot it seems nigh-on certain that Alvarez Empire will be the basis of the 17th and final Fairy Tail story arc.
B: The Beginning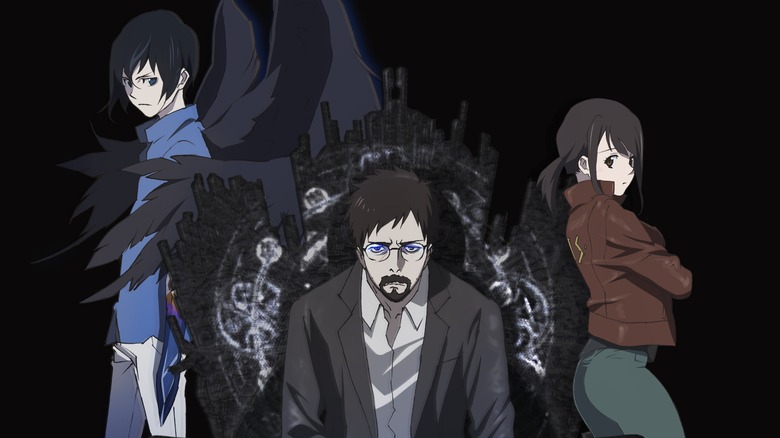 Netflix
When Netflix first announced the show that will drop in spring 2018 under the name B: The Beginning, it was going by the title Perfect Bones. The streaming giant planned to release all 12 episodes of the sci-fi thriller at the same time in what they called "a milestone in anime distribution innovation," though things went quiet after that. Blood+ helmer Kazuto Nakazawa was brought on board as director, but many months passed without word of a release date. The buzz surrounding the project never went away, however, and that was largely due to the studio behind it.
Production I.G.—the guys behind sci-fi classics Ghost in the Shell and Psycho Pass—are handling the project, which is set "in a world powered by advanced technology, crime and action" according to information divulged at Netflix's Tokyo conference (via Crunchyroll). Protagonist Koku must team up with a legendary detective from the Royal Police Force to put an end to a crime spree and stop a serial killer (known as Killer B, hence the new title) currently at large.