The Real Reason Sylvester McCoy Left Doctor Who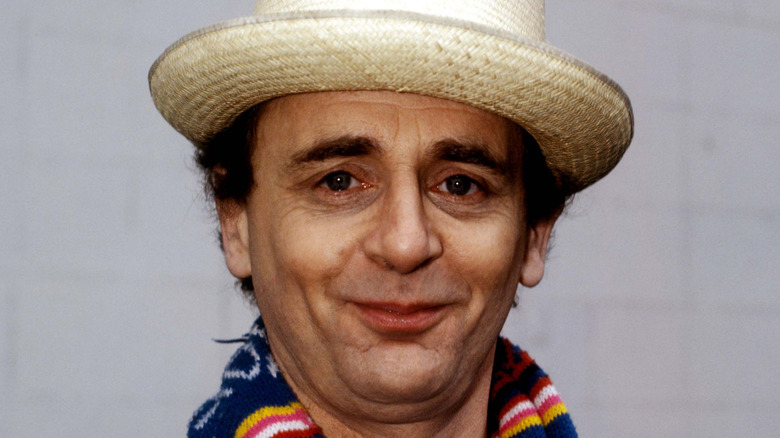 Avalon/Getty Images
As many fans of the show already know, "Doctor Who" has been around for a long time. The series first premiered in 1963 and aired until 1989, before going on something of a hiatus until it was rebooted in 2005. During its original run, seven different actors portrayed the main character of the Doctor, a time-traveling alien Time Lord who goes on many different adventures and engages in all kinds of galaxy-saving events.
The seventh and final actor to portray the Doctor during the original run of "Doctor Who" is Sylvester McCoy, who had a three-season run. Three seasons have become pretty standard for the Doctor actors, especially in the modern era of the show. One might think that McCoy's time on the show ended because, obviously, the show was being axed (via Plymouth Herald). However, there are actually some deeper reasons behind McCoy's time on the show and his ultimate exit from "Doctor Who" that may surprise viewers.
Sylvester McCoy believes politics within the BBC led to his exit
During an interview with Daily Mail in 2020, Sylvester McCoy revealed that he was originally talked into doing a fourth season of "Doctor Who" despite only wanting to do three. Eventually, however, he was informed that not only were they not interested in him returning to the show, but they wanted to shut production down on "Doctor Who" indefinitely. McCoy was hesitant to do a fourth season anyway, but he revealed that he was ultimately disappointed to not be coming back because he believed the final season he was in was finally starting to hit a creative stride.
Ultimately, McCoy believes the decision to end the original run of the show came down to politics within the network, because "Doctor Who" was no longer the exciting new show and they wanted to clear up air space for fresher ideas. Interestingly enough, Michael Grade, former head of BBC One around the time that "Doctor Who" was entering a ratings decline, told Evening Standard that "Doctor Who" was a bad show that just didn't stack up against other popular science fiction of the time, like "Star Wars."
Obviously, this isn't a mindset that continued to be the case at BBC, as "Doctor Who" made a return to television in 2005 and has remained a staple of the network ever since. But the history of the series is nothing if not fascinating, and McCoy's somewhat dramatic exit is further proof of that.