The Ultimate Sara Sidle Episode Of CSI
Strange as it may now seem, the vast "CSI" empire was once just a single show about forensic investigators. The original "CSI: Crime Scene Investigation" built the foundations for the many, many spinoffs to come, and even after the franchise's last show ended in 2016, the first one proved impossible to keep down for too long. In 2021, some of the original "CSI" favorites returned to help a new cast in "CSI: Vegas."
There's a pretty good reason why the new show chose to bring back some of the franchise's longest-serving characters. Memorable crime scene investigators like Sara Sidle (Jorja Fox) are a big part of the reason why the franchise got popular in the first place, and as such, they're essentially the backbone of the franchise. But how would you explain a "CSI" newcomer just what makes Sara such a great character? Is it possible to pin down a single episode that makes clear what she's all about? Let's try to figure out the ultimate Sara Sidle episode of "CSI."
Sara Sidle makes a great first impression in Cool Change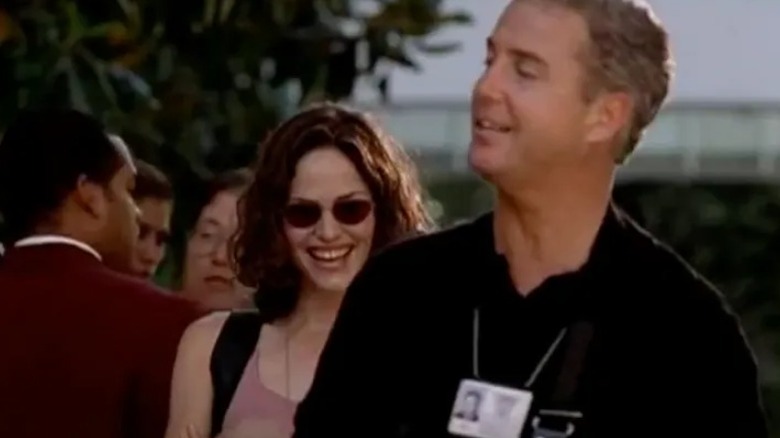 CBS
Everything has to start somewhere, and Sara Sidle certainly starts things with a bang. Her "CSI" debut comes in the very second episode of the show's Season 1, "Cool Change" — and what a debut it is. Sara immediately establishes herself as a force to be reckoned with when Gil Grissom (William Petersen), standing on the crime scene, immediately recognizes her voice and delivers an enthusiastic vote of confideliality. "I don't even have to turn around. Sara Sidle," he says, with a grin on his face, as he turns to face the equally delighted Sara. From this very first moment, the chemistry and professional respect between these two experts is imminent.
Apart from establishing the great Sidle-Grissom chemistry that becomes one of the defining relationships in both "CSI" and, much later, "CSI: Vegas," the episode also introduces many of Sara's defining traits, such as her passion, anti-authority streak, preferred investigation methods, and difficulties in dealing with people. Her first scenes with Catherine Willows (Marg Helgenberger) already show signs of their bumpy professional dynamic, and she verbally decimates Warrick Brown (Gary Dourdan) for his role in the job-related death of a rookie. Considering that the show is still finding its feet at this point, and that the episode has plenty of other things going on, it's pretty impressive how much room Sara gets, and how her first appearance telegraphs many of her professional and personal quirks and relationships for the years to come.