The Most Heartbreaking Sara Sidle Moment From CSI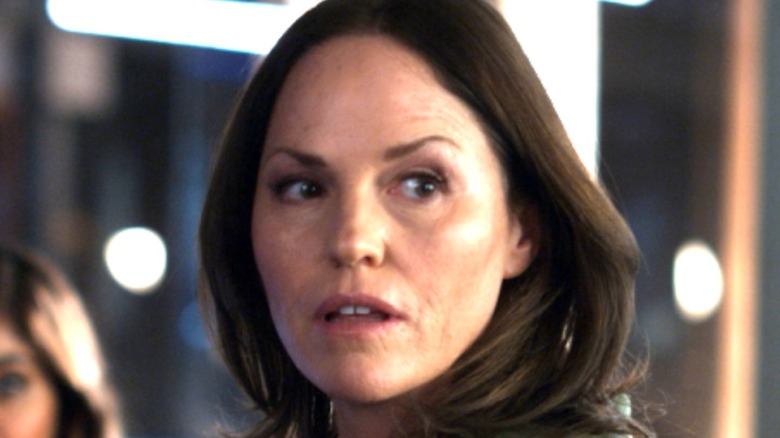 CBS
There's never any shortage of crime drama shows, but some of them have been on the air for so long that they're instantly recognizable, whether it be by name, actors, or aesthetic alone. "CSI: Crime Scene Investigation" came out in October 2000, and 22 years later, is still a roaring success among police procedural shows.
Some of the show's cast members have been on and off throughout the 16 seasons, and a handful reprised their roles for the first season of the recent reboot "CSI: Vegas." Since the beginning, Sara Sidle (Jorja Fox) has been on the show, and audiences have accompanied her on the series through various cases, romance, trauma, and healing.
With Sidle being such a long-standing main character of the show, she's had her share of drama, joy, and tragedy, with some episodes focusing more on her tragedies than others. There are a lot of seasons of "CSI: Crime Scene Investigation" to watch, but there's one in particular that shares with viewers Sidle's most heartbreaking moment.
Sara left Grissom behind with a simple goodbye letter
Season 8, Episode 7, "Goodbye and Good Luck," takes place after Sara Sidle had been abducted by a serial killer and left to wander the desert for days. Once found and healed physically, Sara found healing mentally to be much more challenging.
In "Goodbye and Good Luck," she is forced to deal with trauma that has been with her from her childhood, and she comes to the conclusion that in order for her to move on from those traumas, she needs to leave Las Vegas along with her job as a CSI. The only drawback is that this decision means she is also leaving behind her longtime love Gil Grissom (William Petersen). Sidle and Grissom's relationship took multiple seasons to blossom and come to light, and the love shared between the two is one that viewers are invested in and adore.
In the episode, Grissom has no idea that Sara is leaving or what she has been dealing with regarding her past experiences. Ultimately, Sara cannot face Grissom and leaves a heartbreaking note in his employee locker at work. The letter explains that she tried very hard to stay but can't and that she always has and always will love Grissom, but she has to leave it all behind if she wants to take care of herself.
The episode's ending is sad not only because of Sara leaving the show but also because her leaving ends the one relationship that Grissom cherished outside of his job, and he never saw it coming.