How Anne Hathaway Really Felt About Zoe Kravitz's Catwoman In The Batman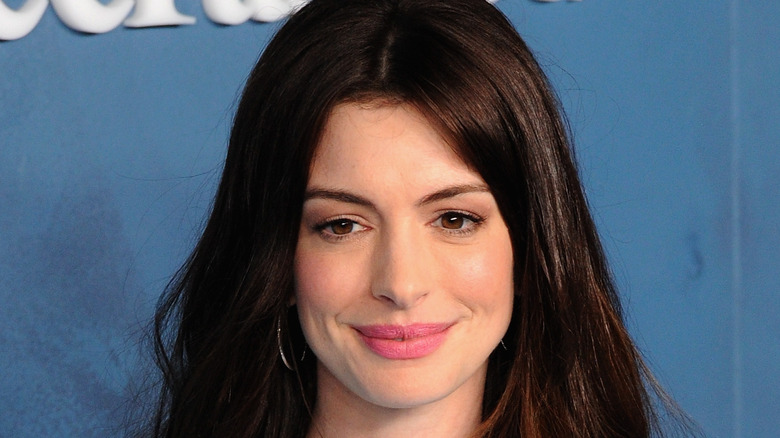 Albert L. Ortega/Getty Images
Matt Reeves' "The Batman" follows Bruce Wayne (Robert Pattinson) as he helps James Gordon (Jeffrey Wright) solve a string of homicides committed by The Riddler (Paul Dano). Their investigation eventually takes them to the Iceberg Lounge, where they meet Selina Kyle, aka Catwoman, played by Zoë Kravitz. Her character is highly involved with the events of the film, working mostly alongside Bruce and Gordon to catch The Riddler.
Of course, this certainly isn't the first time that we've seen a live-action adaptation of Catwoman. Similar to the character of Batman himself, there is a long list of actors who have taken on the role. In the 1960s "Batman" television series with Adam West, there were three different versions of Selina, played by Julie Newmar, Eartha Kitt, and Lee Meriwether in the movie that spun off from the TV series. 1992's "Batman Returns" featured Michelle Pfeiffer in the role, Halle Berry took the mantle in 2004 for a short period, and we even saw a younger version of Catwoman through actor Camren Bicondova in the television series "Gotham." 
However, the most recent live-action film appearance from Selina aside from Kravitz is, of course, Anne Hathaway in "The Dark Knight Rises." Here's how Hathaway really felt about Kravitz's Catwoman in "The Batman."
Anne Hathaway has nothing but praise for Zoe Kravitz
In an interview with Entertainment Tonight, Anne Hathaway was reminded that it has been 10 years since the Academy Award winner played Catwoman in "The Dark Knight Rises." When asked to give her thoughts on Zoë Kravitz's take on the character, Hathaway noted that due to her busy schedule doing press for AppleTV+'s "WeCrashed," she hasn't been able to get to the theater to see the film. However, she did say, "I have a friend who saw it this weekend and said ... she phenomenal ... I am so happy for her. I haven't had a chance to see it yet, but I look forward to that."
This isn't the first time that Hathaway has given words of encouragement to Kravitz regarding the role. While speaking with Collider in 2020, Hathaway was asked what advice she would give Kravitz, to which the actor replied, "If I had any advice it would be literally don't listen to anybody because I think the only way to play that role is to give your version of it." Hathaway then went on to state plainly: "I thought she was a perfect choice."
It's certainly safe to say that Hathaway has been vocally supportive of Kravitz for taking the mantle of Catwoman this time around, and will likely have more comments after she sees "The Batman" herself. We'll keep you posted.