Who's The Other Nicolas Cage In The Unbearable Weight Of Massive Talent?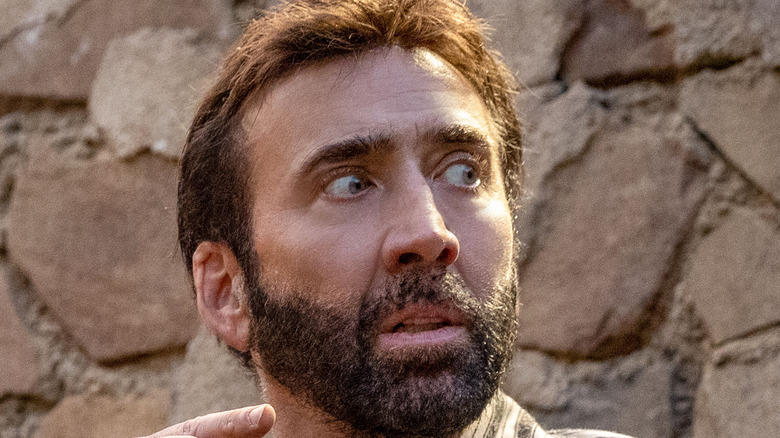 Lionsgate
Throughout the big-screen love letter to film legend Nicolas Cage that is "The Unbearable Weight of Massive Talent," there's a treasure trove of nods to the actor's most beloved work (including a literal treasure trove complete with ugly as hell Nicolas Cage waxwork owned by Pedro Pascal's arms dealer). However, one of the film's biggest highlights is the actor tapping into a role he hasn't handled for over 30 years but slips back into seamlessly, with a leather jacket and decibel-busting volume to boot. For the uninitiated, it's another meme-worthy burst of rage from an actor renowned for it; for the die-hard Cage fan, it's not just a specific performance from the actor's filmography but a vibe that the film's director was determined to replicate from a historical moment in TV history.
On several occasions, Cage chats with a younger, far more animated version of himself (whom he also plays), who isn't afraid to make a scene — mainly because he is invisible to everyone but Cage himself. But just who is this iteration of the iconic actor, and where can we get more of him? To do that, you need to go back to 1990 and revisit one of Cage's career-defining roles and what might be one of director David Lynch's most accessible movies to date.
The other Nicolas Cage is Wild at Heart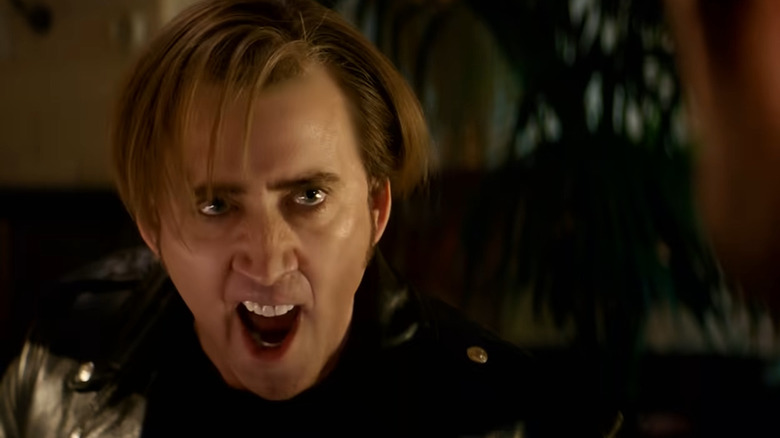 Lionsgate
From his hair to his large leather get-up, Nicolas Cage is resurrecting a level of excitement and untethered originality that is now archived online for us to see over and over again, all thanks to his groundbreaking performance in the David Lynch film "Wild at Heart" that saw him star opposite Laura Dern. As revealed in an interview with GQ, "Nicky," as he's known in the film, isn't just Cage replicating his performance from the cult classic movie, but also an appearance he made on British television at the time for the talk show, "Wogan." 
You can see the whole interview on YouTube in which Cage bursts into the set with a flip, kick, and true rock and roll like fashion, much to the befuddlement of the host, and gives an energy that is back with a vengeance in the new film. It seemed like a hard sell to the man himself, though, as even now, he's not a fan of that era of the person he was. Director Tom Gormican recalled to GQ, "Nick would tell us, 'I look back, and I hate that guy.'"
While that may well be the case, he's certainly a scene-stealer here and a concept that no one but Nicolas Cage could handle in his frantic style. See for yourself when "The Unbearable Weight of Massive Talent" arrives in theatres on April 22.