Star Trek: Discovery Heroine's Violent History Revealed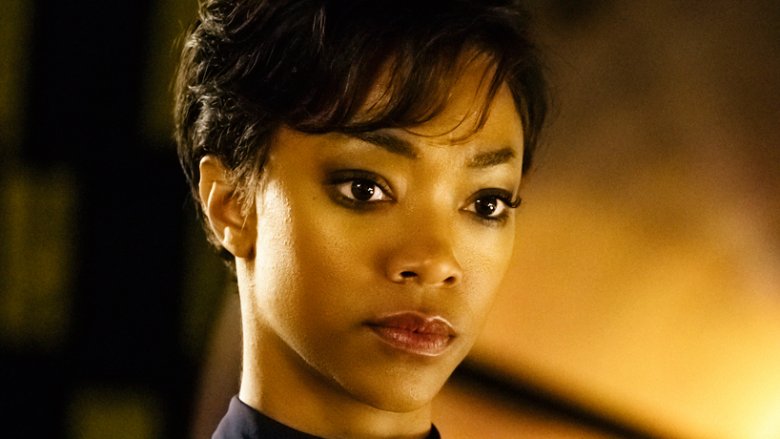 CBS
The tragic and violent backstory of the heroine of the upcoming Star Trek: Discovery is beginning to come into focus, SFX Magazine has revealed. 
In a first-look breakdown from Trekmovie.com, actress Sonequa Martin-Green discussed some of most important bits of history for her character, First Officer Michael Burnham of the starship Discovery. Most relevant is the fact that she is a human with unique closeness to the Vulcan way of life—a relative rarity for the early days of the Star Trek timeline that Discovery takes place in as a prequel series.
"I'm the only human to have gone to the Vulcan Learning Center and the Vulcan Science Academy and excelled at that," said Martin-Green. "As a xenoanthropologist, I'm also essentially and inherently a first contact specialist as well." 
Her role as a bridge between the worlds of Vulcan, Earth, and beyond make her an ideal point person for establishing relationships with new galactic entities, which is said to be a focus of this show, much like the previous early-days-of-the-Federation series Enterprise, which went off the air in 2005 after a four-season run.
Burnham's pioneering work as a human in Vulcan professional spaces wasn't a voluntary choice, however. According to actor James Frain, who will appear on Discovery as a younger version of Spock's father Sarek, Burnham's entry into Vulcan society only occurred after her human family was brutally murdered while she was still a young girl. Discovery viewers will see exactly why Sarek "has been made responsible for Michael's upbringing," Frain said. "Her parents were killed while being hosted at the Vulcan Academy when there was a Klingon attack. So we feel responsible for her, take her in, and I raise her in my family as a Vulcan."
The Sarek connection is more significant than you may think. As previously revealed, Burnham will be taking a controversial role within Star Trek canon, playing a brand-new, never-before mentioned half-sister to Spock in the new series. Fans (especially sci-fi fans) don't have a lot of tolerance for canon-corrupting shenanigans, but hopefully Discovery will have what it takes to soar above the early criticism.
We'll find out for ourselves when the show debuts Sept. 24 on CBS All Access. Until then, check out our wish list of all the things we want to see when Discovery takes flight.