Where Is Gold Rush: Parker's Trail Actually Filmed?
It always comes as a bit of a shock to realize that Parker Schnabel has been on the hit Discovery show "Gold Rush" since 2011. Although Parker is now a nearly 30-year-old man, back when the series first began, he was only a kid, the grandson of Big Nugget Mine owner John Schnabel. However, even at such a young age, the gold mining business was in his blood, putting him a step ahead of many others with similar interests. From a very young age, he's always known exactly what equipment is needed, and, perhaps even more importantly, has always known the degree of difficulty associated with the life of a gold miner. 
As of 2020, Parker's net worth is estimated to be about $10 million (via Distractify), so it's safe to say he knows quite a bit about what he's doing. Notably, the Schnabel family operation and media empire have provided him with even more opportunities beyond a sizable fortune. It's also allowed him and his family the ability to see much of the world. Since its 2010 premiere, "Gold Rush" has been set in a plethora of different mining locations. Unsurprisingly, some golden hotspots have turned out better than others.
In "Gold Rush" Season 1, the team starts out searching for gold in Porcupine Creek, Alaska. Since then, the show has expanded to other locations. While most of the company's mining spots are placed within the United States, this team is now an international business. As of this writing, the "Gold Rush" franchise has featured mining locations on at least three different continents. For this reason, it shouldn't be massively surprising that Schnabel decided to take his own spin-off show, "Gold Rush: Parker's Trail," further away in search of gold than anyone else has ever gone before.
Gold Rush: Parker's Trail has filmed all over the world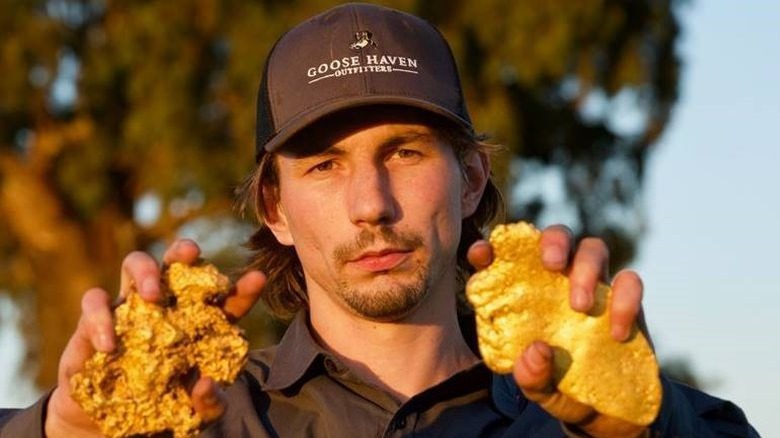 Discovery Channel
Season 1 of "Gold Rush: Parker's Trail" sees Parker Schnabel tackle the Klondike Trail in Alaska (via Discovery UK), while Season 2 sees him travel to South America, determined to find gold in the jungles of Guyana (via Discovery UK). In Season 3, he even searches the Edie Creek gold mine in Papua New Guinea, another famous site known for producing sizable amounts of gold over the years (via mindat.org). Because of the franchise's prior history, it would seem that the team truly felt the need to go big or go home for Season 4. Season 4 memorably takes the determined miner all the way to Australia.
Schnabel's new crew for Season 4 includes experienced Australian gold miner Tyler Mahoney, former Green Beret Fred Lewis, and cameraman Daniel Etheridge, who has been documenting Schnabel's mining expeditions for the last decade (via Discovery). Tempted by large gold nuggets and untouched Australian ground, Schnabel and his team travel 6,000 miles across Australia, exploring underground mines and the latest techniques to uncover gold, while also dealing with extreme heat, dangerous creatures, and an unfamiliar environment (via Discovery). 

Notably, before the end of the season, Schnabel purchases a substantial sum of Australian property for the purposes of mining gold in the future. Given his team's previous success on the continent (via Discovery Australia), it certainly seems likely that the series will return to this ground at some point soon.