The Iconic TV Star You Likely Didn't Know Was Related To Yellowstone's Jennifer Landon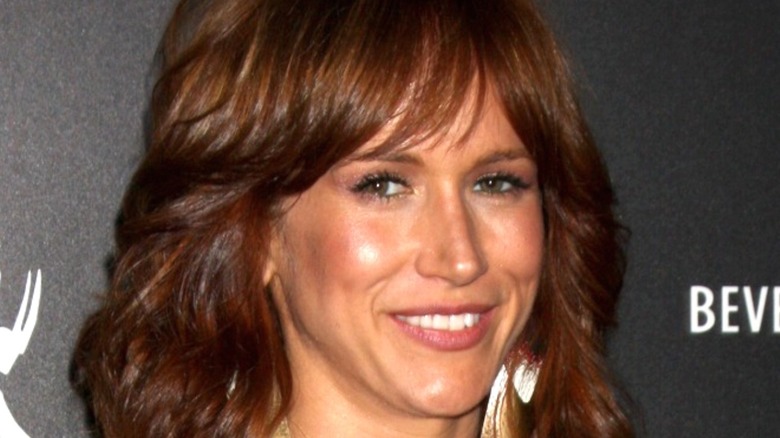 Kathy Hutchins/Shutterstock
Co-created by "Hell or High Water" screenwriter Taylor Sheridan and producer John Linson, "Yellowstone" was a fast hit upon premiering in 2018. The neo-Western follows a powerful Montana ranch family, with Kevin Costner's John Dutton at the helm. Over four seasons, the Dutton family endures constant clashes with government officials, nearby ranchers, and each other.
With her shock of pink hair and a mouth like a sailor, Jennifer Landon's Teeter was a welcome addition to the team of hard-nosed ranch hands. Landon joined the series in Season 3, quickly endearing audiences to Teeter with the character's thick drawl and rough-around-the-edges attitude. She also added some much-needed humor to the otherwise high-drama series. Alongside her fellow ranch hands, Teeter takes on the dual duties of the job — land and livestock maintenance — and the often violent responsibility of warding off nefarious trespassers. Teeter's loyalty earns her the respect of the Dutton family, making her the first woman to receive the coveted "Y" branding.
Landon has made a name for herself on television, both in "Yellowstone" and for her Daytime Emmy Award-winning performance in "As the World Turns." What fans may not know, however, is that Landon comes from legendary television stock.
Jennifer Landon's father is Western TV legend Michael Landon
Jennifer Landon's father is the late actor Michael Landon, who has long been a figure in the American popular imagination. Indeed, his work on television led him to grace the cover of "TV Guide" 22 times, a record that's been bested only by Lucille Ball (via Outsider). Landon's longest-running role was in "Bonanza," which he joined at the age of 22. Between 1959 and 1973, Landon starred as Joseph "Little Joe" Cartwright, the youngest son of the wealthy Cartwright family. "Bonanza" is also where Landon began to develop his writing and directing chops. The young actor scripted and helmed a number of episodes, including the series finale (via Outsider).
Landon is also known for portraying Charles Ingalls, the patriarch of the farmsteading frontier family, in "Little House on the Prairie." The series also enjoyed a second life in syndication, where a younger generation was introduced to the Ingalls. In addition to starring, Landon served as executive producer, director, and writer on the series. When his character was dropped for the 1982 sequel season, "Little House: A New Beginning," Landon stayed on board for his off-camera contributions.
Landon passed away in 1991 from pancreatic cancer. His daughter, Jennifer, became aware of his diagnosis when she was 7 (via People). It's moving, then, that the younger Landon has also become known for her role on a Western television series, albeit one with a less family-friendly tone. In 2005, she joked, "​​Sometimes I'm glad he's not here," referring to the unsavory things her character did on "As the World Turns." That statement would prove to be foretelling given her turn as the scrappy, foul-mouthed Teeter.