The Breakthrough Role You Likely Forgot Won Yellowstone's Jennifer Landon An Emmy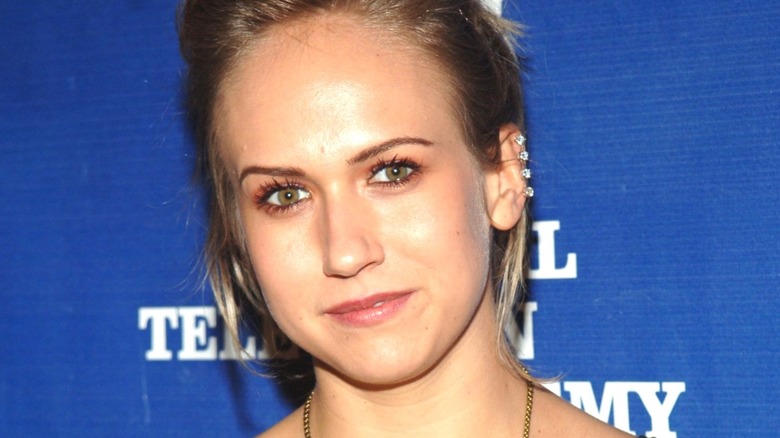 Brad Barket/Getty
Working on the famous ranch in "Yellowstone" is basically two jobs in one. On one side of the coin, ranch hands have to deal with the stereotypical job offerings of cattle rustling and farm maintenance. On the other side, one might get called to help deal with trespassers, which means holding them at gunpoint while they dig their own graves. If there is one thing that is for certain, it's that John Dutton (Kevin Costner) takes his job and land rights very seriously.
Jennifer Landon plays the pink-haired Teeter in the hit television show. Appearing in around 20 episodes so far, Teeter sets herself apart from her coworkers with her work ethic and absolute loyalty to a job that is generally dominated by males, and as such, represents a different kind of character (via IMDb). Not afraid to throw a punch or flex her muscles, Teeter's unfiltered approach earns her the support of the Dutton family. However, some fans of Teeter may not have realized that the actor has previously won several Daytime Emmy Awards. But what show was it for, and what was her role?
Jennifer Landon earned three Daytime Emmy Awards for As the World Turns
The daughter of Michael Landon of "Little House on the Prairie" fame, Jennifer Landon got her acting start at the age of five (via TV Guide). However, what earned the actor critical acclaim was her long tenure in the popular CBS soap opera, "As the World Turns." For her effort in over 450 episodes, Landon earned three Daytime Emmy Awards in 2006, 2007, and 2008 for outstanding younger actress in a drama series (via IMDb).
For those without an encyclopedic knowledge of "As the World Turns," Landon plays the role of Gwen Norbeck Munson in the hit television series. Echoing her later role as Teeter, Gwen's life is hard and full of drama. Originally an emancipated youth, Gwen goes through several heartbreaking moments during her time in the show, like when she gives up her own child for adoption only to later attempt to get the child back, which causes several issues to arise. Later, Gwen tries to start a country music career and ends up in an uneasy love triangle. At one point, she even has to deal with a serial killer! 
Though the character of Gwen never receives a cattle brand like Teeter, there are some similarities between Landon's characters in "As The World Turns" and "Yellowstone." They both are looking for some simplicity in life, but are besieged by a multitude of issues that must be dealt with using hard-earned knowledge from a rough upbringing. Landon clearly knows how to depict these types of characters with skill and charm.