The Real Reason Nick Cage Agreed To Make The Unbearable Weight Of Massive Talent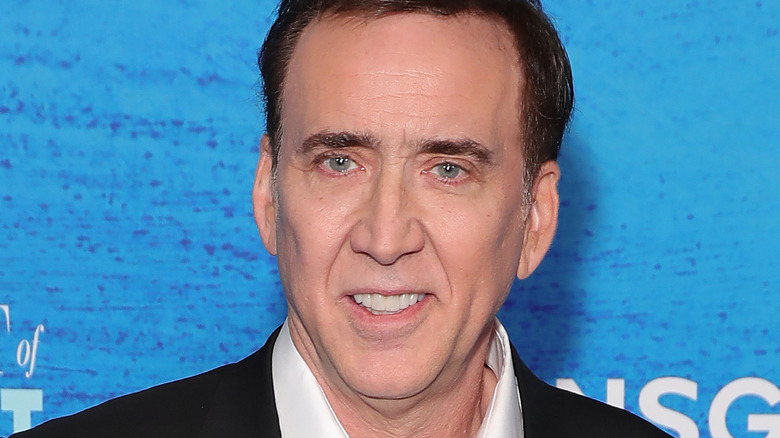 Leon Bennett/Getty Images
Nicolas Cage has made himself a cinematic icon over the past few decades, taking on roles of all kinds to draw moviegoers in. While some of his more eccentric and meme-worthy roles, such as Peter Loew in "Vampire's Kiss," Johnny Blaze in "Ghost Rider," or Ben Gates in "National Treasure," stand as his most memorable, they represent just a small portion of his remarkable acting range. In fact, his ability to transform into various characters and personality types has greatly influenced his contemporaries and left fans to ponder the question: what's left in the entertainment world for Nicolas Cage to try?
As it turns out, there's at least one mountain that Nicolas Cage has yet to scale at the movies. For the upcoming action-comedy "The Unbearable Weight of Massive Talent," the prolific actor will play a fictionalized version of himself, simultaneously paying homage to his career up to this point in the wackiest ways possible. In the film, Nick Cage answers an invitation to meet with a mega-rich superfan named Javi Gutierrez (Pedro Pascal), and they immediately hit it off. However, when he learns that there's something more sinister going on, Cage must look to his Hollywood past to save his ex-wife and daughter.
On paper, this sounds like the perfect role for Nicolas Cage to thrive in, although it actually took some convincing to get him to sign on. Here's why he was initially apprehensive and what led to him giving "The Unbearable Weight of Massive Talent" a try.
Cage grew to appreciate Tom Gormican's vision for the film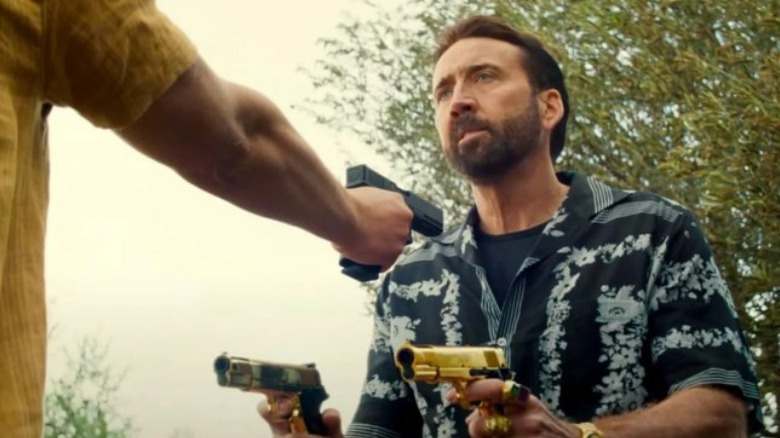 Lionsgate
Ahead of the April 22, 2022 premiere of "The Unbearable Weight of Massive Talent," Nicolas Cage spoke to The Hollywood Reporter about the film, among other subjects. First and foremost, he shed some light on how it came to fruition, as well as his initial response to the basic premise. "I turned it down three or four times...I wanted no part of it," he recalled, stating that he worried the project was nothing more than a joke at his expense. That all changed once he received a letter from writer-director Tom Gormican that made it clear he had no intention of mocking him.
Bearing Gormican's genuine appreciation for his work in mind, Cage soon got on board with "The Unbearable Weight of Massive Talent" — something driven home by a sequence that sadly won't appear in the final product. According to Cage, the scene took heavy inspiration from German expressionist works of the early-20th century, specifically the groundbreaking 1920 feature "The Cabinet of Dr. Caligari." Ultimately, though, the studio found it a bit too strange for general audiences, so much to Cage's disappointment, it wound up on the cutting room floor.
On the other hand, the studio didn't feel the same about another element of "The Unbearable Weight of Massive Talent" that Nicolas Cage loved, that being the character of Nicky Cage. He appears as Nick Cage's younger inner-monologue based on his look around the time "Wild at Heart" released. The actor tells THR that he really latched onto this element of his fictional self, further indicating to him that he made the right call by joining the cast list.