Guillermo Del Toro Gave Up His Salary To Fund The Shape Of Water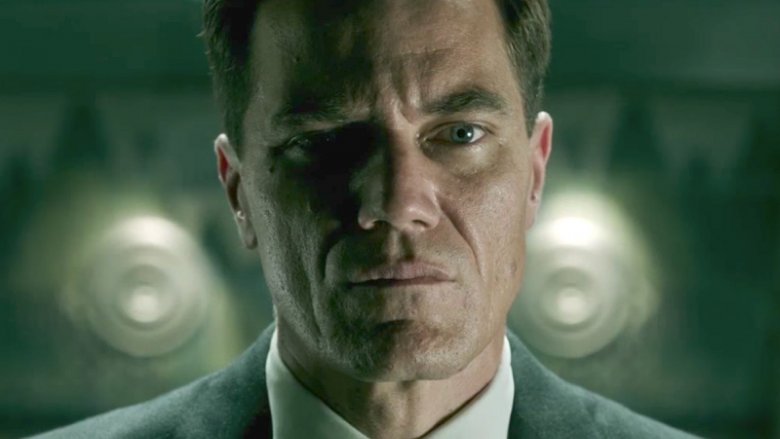 Guillermo del Toro had to give up a lot to make sure his "otherworldly fairy tale" The Shape of Water got made. The director revealed in a recent interview with Variety that he sacrificed his salary for the movie in order to ensure that it was able to find its way to the big screen.
The film, written and directed by del Toro, is set in 1962, in the midst of Cold War-era America. A mute woman named Elisa (Sally Hawkins) lives a life of isolation in the high-security government facility where she works, but her life is turned upside down when she and her co-worker Zelda (Octavia Spencer) discover a secret classified experiment. Elisa and the creature (Doug Jones) develop a loving relationship in the movie, much to the chagrin of his villainous keeper (Michael Shannon).
"I always wanted to do an amphibian-man romance with a human," del Toro said of the movie, adding that his original ideas were closer to Creature From the Black Lagoon. However, he struggled with developing the concept for years, saying he felt "the genre got in the way." His creative block was eventually broken during a conversation with his Trollhunters co-author Daniel Kraus, who talked about an idea for a story where a janitor befriends an amphibian creature in a container reading, "Found in the Amazon." "I said, 'Say no more, I am buying that idea. That's my next movie!'" del Toro said. 
The Shape of Water did not actually end up being del Toro's next project, with the director first working on 2015's Crimson Peak. However, he learned a valuable lesson from that film– the movie needed to have the right budget if the studio was to be able to market it properly. "I understood The Shape of Water needed to cost under $20 million, because that allows them to market it for what it is," he said. To that end, he decided to give up his whole salary, except for taxes and guild dues, to go back into the film. He also paid for hundreds of thousands of dollars of pre-production himself.
"The way I see money at 52, my kids are adults basically, I dress like s***, I drive a four-year-old car, I have all the rubber monsters that I need," he said. "You don't make these movies to buy a ranch in Santa Fe; you make these movies to tell a story. It's not that I came out flat on this movie; I invested. And I invested in a story that I think of as an antidote to the times we're living in. Everything is so sordid and horrible right now, but this movie is not shy about talking about love and beauty and the good things in life."
Del Toro says that he will not turn away from depicting the sexuality aspect of that love and beauty, saying that it seemed "hypocritical" to him to avoid it. "I didn't want to do a movie about 1962, I wanted to do a movie about now," del Toro said, adding that the main pair's forbidden love is reflective of racism and homophobia. "And then my pledge is to dedicate myself to the smaller movies, because frankly that's what I want to do now." 
"As a kid, watching Frankenstein or Creature or Dr. Jekyll and Mr. Hyde, I was always rooting for the monster," he continued. "So I always wanted to see that movie. If we had made a normal movie, in the scene where the beast carries the beauty in his arms, the hero would be... the square-jawed, beautifully tailored white-man savior [Shannon's character]. Here, it's the fact that we see him from another point of view that makes him the villain. For me, stories are interesting if you change the point of view."
Lauren Lee Smith, Richard Jenkins, Michael Stuhlbarg, Nick Searcy, and David Hewlett also star in The Shape of Water, which is slated for a Dec. 8, 2017 release. For now, see some of the other movies you have to look forward to for the rest of this year.