The Most Shocking Scene In The Unbearable Weight Of Massive Talent Explained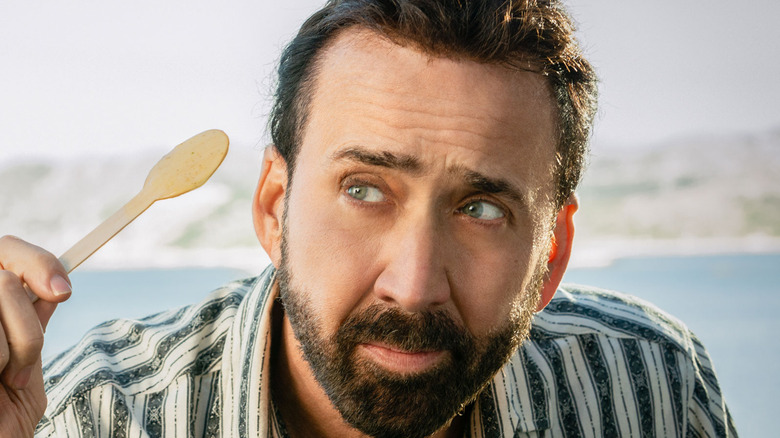 Lionsgate
Contains spoilers for "The Unbearable Weight of Massive Talent"
If "Adaptation" taught us anything, it's that two Nicolas Cages are better than one. That's a lesson that director Tom Gormican applied in an effective dose with his new film, "The Unbearable Weight of Massive Talent." Painting an extravagant picture of an already extravagant movie star, the film sees Nicolas Cage roped into visiting a wealthy fan who turns out to be a notorious arms dealer (Pedro Pascal). Soon, an effort for a comeback tour becomes a top-secret mission laced with betrayal and more Nicolas Cage movie references than you can shake a stuffed boxed bunny at.
However, even with the numerous nods to "Con Air," "The Rock," and "Leaving Las Vegas," one of the film's oddest moments involves him having an extremely strange face-to-face with himself. That's right, on some occasions, the seasoned star finds himself conversing with his younger self from the '90s classic "Wild at Heart." In one of these odd self-care scenarios, things take an intimate turn.
Nicolas Cage kisses himself
Before Cage agrees to a Mallorca-based meet and greet that will get him in trouble, a lonely drink at a bar sees him visited by his younger "Wild at Heart" self. Providing an overpowering pep talk, young Cage gives contemporary Cage some wise words, reminding him that he is "Nic F*****g (Woo!) Cage!" right before planting a full kiss on the worn-down star. As unhinged as the scene may be, seeing Cage make out with himself somehow fits perfectly with the energy of the film and — let's be honest, here — Nic Cage's entire celebrity ethos. The film revels in the passionate moment, showing the kiss from multiple angles, as it's dragged out to an uncomfortably hilarious length. "Wild at Heart" Cage goes all-in on the smooch, and it's all capped off with a T-shirt-worthy quote: "You tell 'em Nic Cage smooches good." 
It was revealed in a Variety interview that this scene was made up on the spot by the man himself. Writer Kevin Etten recalled to the trade, "I've literally not laughed harder and been more psyched for an actor's idea." It's easily the outrageous cherry on top of "The Unbearable Weight of Massive Talent," which you can now see for yourself on a giant screen in theaters everywhere.