The Big Warning Norman Reedus Gave To Lynn Collins When She Joined The Walking Dead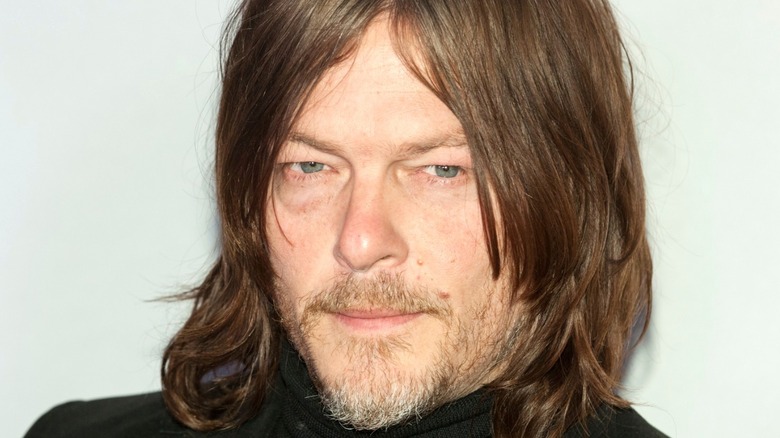 lev radin/Shutterstock
"The Walking Dead" is, without a doubt, one of the biggest TV shows of the modern era. Focusing on a ragtag group of survivors navigating life during the zombie apocalypse, the show reinvigorated the zombie-horror genre for a whole new audience and has kept fans on the edge of their seats ever since it premiered in 2010. As such, the series has become a cornerstone of popular culture and already seems likely to have a long-sustaining legacy reaching far beyond the lifetime of the original series.
Of course, all of that adds quite a bit of pressure to those who have joined the show's cast in the years since its meteoric rise in popularity. Lynn Collins, who played the survivor Leah Shaw across the show's 10th and 11th seasons, found herself in this very situation when she joined the show's main cast back in 2020. As it turns out, the actor received some advice from longtime show star Norman Reedus warning her about one of the more difficult aspects of working on such a major series.
Reedus told Collins not to interact with the fanbase on social media
In an interview with Insider about her time on "The Walking Dead," Lynn Collins revealed that when she first joined the show, Norman Reedus advised her not to engage with the show's passionate fanbase on social media platforms. "He was like, just be careful of what you watch, what you look at, because they're really passionate," the actor said in the interview. "So protect yourself. Just be careful."
Reedus's advice to Collins rings true when considering the show's storied history. For a series so intent on shocking fans with disturbing character deaths, mind-blowing betrayals, and stomach-turning gore, it comes as no surprise that "The Walking Dead" has bred its fair share of controversy over the years and some watchers have been quite vocal in their criticisms. Unfortunately, a few have taken their frustration too far, with several actors on the show having received death threats in the past. However, it seems that Collins heeded Reedus' advice and was largely able to keep her head down during her time on the series.
"I just have to facilitate the writing that I'm given and help the story be told," she said in the interview. "I can't get emotionally involved with naysayers, so to speak, because then I'm not gonna be able to do my best work. I'll be insecure."