The Character John Slattery Almost Played On Law & Order: SVU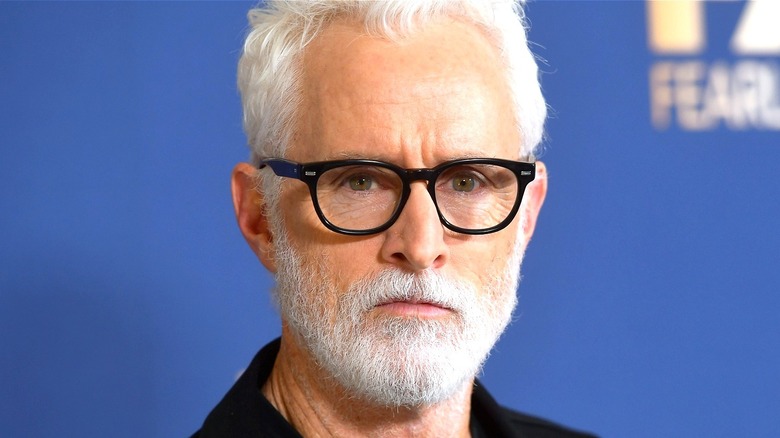 Matt Winkelmeyer/Getty
Though you may not know him by name, with his distinctive facial features and signature shock of white hair, John Slattery has become one of the more instantly recognizable actors on the planet. And that's in no small part because he's spent the better part of the past few decades delivering more than memorable performances in some of the best film and TV projects in Hollywood.
Slattery is, however, probably best known for his scene-stealing turn as the charmingly smarmy Roger Sterling on AMC's iconic drama series "Mad Men," for which he earned four Emmy nominations as Best Supporting Actor. Since 2010, he's also been a mainstay in the Marvel Cinematic Universe as Howard Stark — aka the late papa to the man who would become Iron Man (Robert Downey Jr.). 
As career-altering as those notable roles have been for John Slattery in his career, it seems he was once up for what would have no doubt been another career-changer back in the late 1990s. That role was on NBC's long-running procedural "Law & Order: Special Victims Unit." Here's who John Slattery almost played on the series. 
Slattery was apparently up for the role of Stabler on Law & Order: SVU
"Law & Order: Special Victims Unit" made its primetime debut back in 1999, and it has surprisingly been on the air ever since. In fact, it currently holds the title of longest running live-action drama in television history. For more than half of the series' seemingly endless run, "Special Victims Unit" also fronted arguably one of the best-loved crime-fighting duos the small screen has seen in Detectives Olivia Benson (Mariska Hargitay) and Eliot Stabler (Christopher Meloni). As that duo has been making waves again with Meloni's return to the "Law & Order" realm, we've recently discovered the Benson and Stabler team we know and love almost didn't happen — because John Slattery was in the running to play Stabler.
Hargitay and Meloni admitted as much in a recent appearance on Late Night with Seth Meyers. During their segment, the duo naturally promoted "Special Victims Unit," and Meloni's new spin-off series "Law & Order: Organized Crime." But they also hilariously ended up re-enacting their first meeting. Turns out that in the fateful moment, Hargitay actually mistook her future co-star to be John Slattery, whom she was also slated to screen test with. It's unclear whether Slattery ever turned up for that screen test, but it seems he was indeed far enough along in the casting process that a read with Hargitay was on the books.
Fate, of course, had other plans for everyone involved. And as much as we all love John Slattery, it's safe to say the casting team on "Special Victims Unit" made the right call.