The Hilarious Prank Kara Killmer Played During An Intense Brettsey Scene On Chicago Fire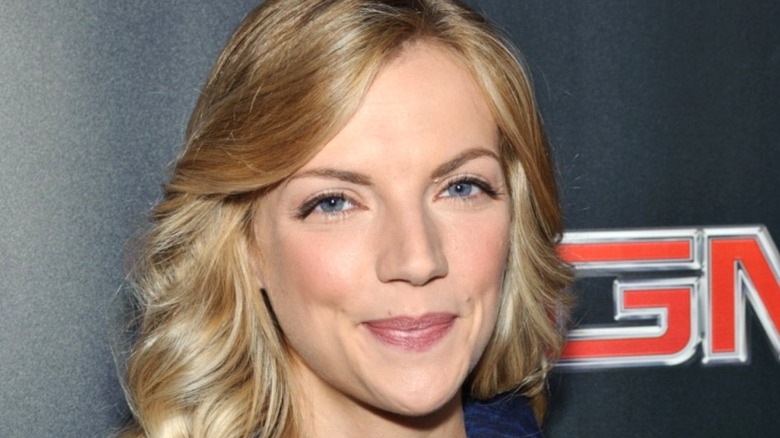 Timothy Hiatt/Getty
What makes "Chicago Fire" such an appealing show to watch? One major element is its compelling focus on a group of Chicago-based firefighters from the fictional Firehouse 51 and their valiant mission to save lives. Another is its status as a component of one of the most ambitious shared universes on TV: NBC's "One Chicago" franchise. There's also the fact that the show is just as much a character drama as it is a procedural, and some would argue that the complex relationships between the central cast are just as integral to their investment in the show as any other aspect.
Indeed, one of the biggest hallmarks of the show's later seasons has been its focus on the burgeoning romance between fire captain and original lead Matthew Casey (Jesse Spencer) and paramedic Sylvie Brett (Kara Killmer), labeled Brettsey by some fans. Even though Spencer recently exited the show as a series regular, the two characters still maintain a long-distance relationship and Sylvie even took a leave of absence from Firehouse 51 to go visit Matt for several episodes in Season 10. While the on-screen Brettsey romance may be intense and dramatic, it seems that the actors behind the characters are more than willing to pal around and have a good laugh while filming. In fact, Killmer herself once played a prank on her co-star while they were shooting an especially intimate scene.
Killmer broke the tension with farts and fake teeth
In a behind-the-scenes video posted on the official "One Chicago" YouTube channel for the One Chicago Day celebration event on April 6, several members of the cast were asked if anyone has played pranks on the set of the series. Kara Killmer revealed that she once played a prank on Jesse Spencer while the two were filming the first intimate love scene between their characters. According to Killmer, she hid a fart machine under the bed to make noises and even slipped on a pair of outrageous fake teeth. The mental image of all this happening is pretty funny, especially when considering how serious and passionate the actual scene is. It's certainly one way to break the tension.
More than anything, however, it's nice to know that the "Chicago Fire" cast is close enough to play good-natured practical jokes like this on one another. It's anyone's guess what other pranks have played out on the show's set, or whether Killmer will strike again with another prank on a co-star. Perhaps the cast will share more amusing stories like this one with fans in the future.