Bob Odenkirk Reveals The One Thing He'd Change About Better Call Saul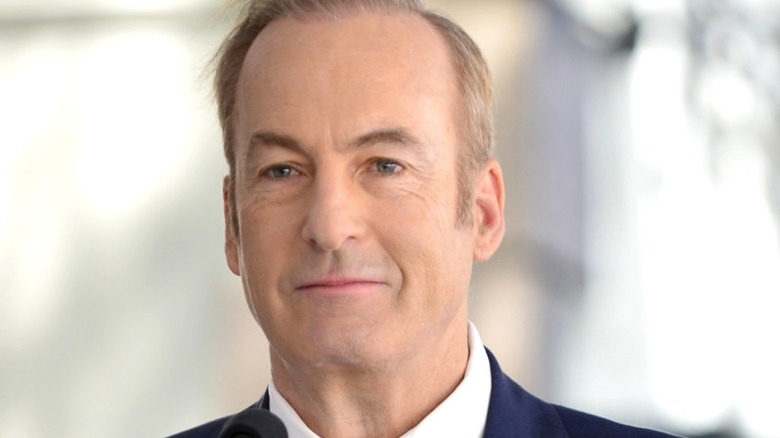 Jerod Harris/Getty
The end of "Better Call Saul" is nearly in sight, and we've almost witnessed the complete and utter transformation of good-hearted, if not a tad misguided, Jimmy McGill into criminal lawyer (emphasis on criminal) Saul Goodman, as played by Bob Odenkirk. Despite his best efforts to win over his family and colleagues, Jimmy's always found himself caught between a rock and a hard place. Going into this final batch of episodes, we should see Jimmy completely change for the worse and perhaps even get a glimpse into what he's up to now ever since he had the disappearer create a whole new identity for him.
We may know Jimmy/Saul will make it out of the show's events alive, but he has plenty of people within his orbit who may not be as lucky. Kim Wexler (Rhea Seehorn) has broken bad alongside her newly minted husband. Nacho (Michael Mando) is on the run, while Lalo (Tony Dalton) is out for revenge. Audiences may think they know where everything's heading, but it's always preferable to expect the unexpected in this universe.
It also begs the question: What does Bob Odenkirk hope to see out of his character before the finale? He spoke about his wishes in an interview with Entertainment Weekly, and at the end of the day, he hoped to find the speck of humanity hidden within his character.
Bob Odenkirk wants Saul to reconnect with his old self
Saul Goodman may become the character's prominent persona in the years to come in the franchise, but deep down, he'll always be Jimmy McGill. He'll always be that guy who wanted his brother's approval but never got it. Saul's about to have his work cut out for him when he gets involved with Walter White (Bryan Cranston) and Jesse Pinkman (Aaron Paul), resulting in him going on the run and adopting the new moniker of Gene Takovic. But is there a way to see Jimmy peek through once again before "Better Call Saul" comes to a close?
Bob Odenkirk certainly wanted to see that happen, and he related that desire to Entertainment Weekly: "Jimmy's got a lot of goodness hidden inside him, compartmentalized. First couple of seasons, we learned that there was a really good guy there, and his feelings were hurt, and he tried to just get love and appreciation from people he loved, and he was pushed away at every turn. I would like him to reconnect with that person he was when he was younger and find some way to be hopeful again and be a good person." 
This desire to find the goodness in Saul once again was so powerful to Odenkirk that he told series co-creator Vince Gilligan about it, "I told this to Vince and Peter [Gould] that sometimes people learn the right lessons from life." It remains to be seen whether Gilligan and Gould took him to heart on that, but there's one thing fans can count on. These final few episodes of "Better Call Saul" will be explosive, no matter how much of Jimmy is still left in Saul.