James Gunn's Starsky And Hutch Reboot Lands At Amazon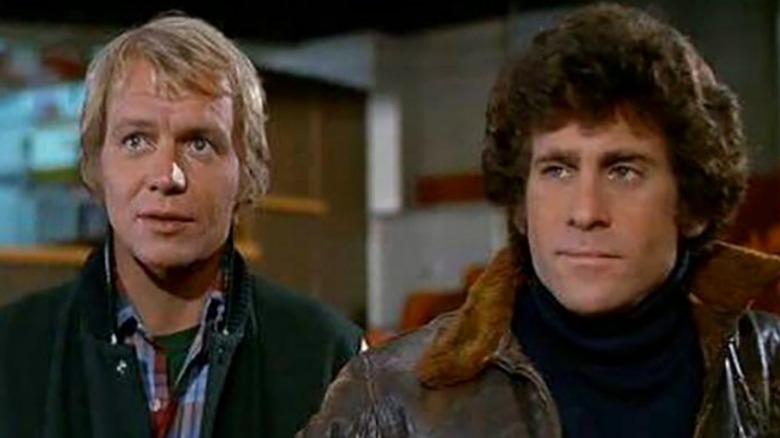 The original partners in crime are heading to Amazon. 
Per The Hollywood Reporter, the retail giant and video streaming service has snagged the Starsky and Hutch television reboot from Guardians of the Galaxy writer and director James Gunn.
Amazon has given a script-to-series commitment to Gunn's series, which has attached to it his brother Brian and his cousin Mark. This deal indicates that if the script is well-received, Amazon will order the drama immediately to series. The project is a co-production between Amazon Studios and Sony Pictures Television Studios, which controls the television rights to the IP and serves as the worldwide distributor of the original series. Warner Bros. currently holds the feature film rights. The Gunns' Starsky and Hutch has apparently been underway since last year, when deals for those involved officially closed. 
The potential Starsky and Hutch series is set to be a continuation of the buddy cop show from the '70s, which aired on ABC from 1975 to 1979. It followed two detectives: the street-smart David Michael Starsky (Paul Michael Glaser) and the straight-laced Kenneth Richard "Hutch" Hutchinson (David Soul). The refresh has been billed as a character-driven drama that will deconstruct the genre in a way similar to what Gunn did with superheroes and sci-fi in Guardians of the Galaxy. 
Amazon head of comedy, drama, and VR Joe Lewis said in a statement, "Chekhov said if you have a gun in the room, it's going to go off. We can't wait to see what three Gunns do with Starsky and Hutch."
Co-president at Sony Pictures Television Studios Jason Clodfelter expressed similar excitement, stating, "We are thrilled to be working with Amazon on this unique approach to a character-driven procedural. The Gunns completely surpassed our expectations while paying respect to the original."
But no one is more enthused about the project than James Gunn himself. Here's what he he had to say: "When I was a kid, Starsky and Hutch was the first 'adult' show I ever saw, and I fell in love. It instilled in me a lifelong love of gritty street shows, of killer '70s threads, and muscle cars. So when Neal Moritz [an executive at Sony Pictures] asked me if I wanted to be a part of an all-new Starsky and Hutch on TV, I was instantly intrigued. I teamed up with the two writers I trusted most in the world to work with us, my brother Brian Gunn and my cousin Mark Gunn and together we came up with a show that I'm really proud of. At Amazon, I believed we would have the most freedom to create something that is different, challenges the audience, and that strays outside the parameters of genre from time to time."
Brian and Mark Gunn are set to write the script, which is based on an idea James developed in the time between writing Guardians of the Galaxy Vol. 3 and beginning pre-production on that feature. The pair previously penned Journey to the Center of the Earth 2. Joining the Gunns for the project are Moritz and his Original Film banner topper Pavun Shetty, who serve as executive producers.
Until we hear more about Starsky and Hutch, take a look at a few reboots that actually worked in a major way.