Are Vanessa Ray And Will Estes From Blue Bloods Friends In Real Life?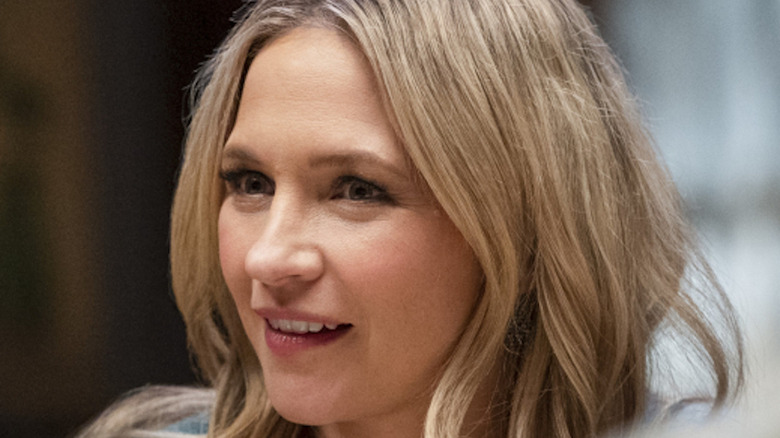 John Paul Filo/CBS
"Blue Bloods" has seen the partnership, and later relationship, of Jamie Reagan (Will Estes) and Eddie Janko (Vanessa Ray) blossom and grow. Jamie is the youngest of the Reagan progeny, and his father, brother, and sister all have jobs related to the law enforcement profession. Frank Reagan (Tom Selleck), the Reagan patriarch, is the commissioner of the NYPD, and his children are either cops or, in Erin's (Bridget Moynahan) case, a lawyer. Even Frank's father, Henry Reagan (Len Cariou), is a former police officer and commissioner. As such, the Reagan family is all about law and order — one could say it's in their blood.
Janko is Jamie's third partner in the line of duty. It becomes apparent that these two characters feel something towards one another, with their fondness for each other extending outside the boundary of simple professional courtesy. Although initially reluctant to act upon their romantic inclinations because of a shared dedication to the job, Jamie and Eddie eventually give in to their emotions, which leads to a strong romantic partnership and, later, marriage.
However, are the two actors who play a happily married couple on the CBS series actually friends in real life? And if so, what are their interactions like when the cameras aren't rolling?
Ray and Estes have been friends for years
In a March interview with Nerds of Color, Vanessa Ray was asked about the dynamic she shares with her "Blue Bloods" co-star, Will Estes, as well as her favorite moment in their shared journey on the CBS series. Ray responded by sharing an anecdote about a visit her mother made to the set of "Blue Bloods." She recalled how her mother told her that she and Estes were talking non-stop, whether the camera was rolling or not — which is something their co-stars were not doing.
Ray added, "We don't stop talking. I get sort of emotional when I think back to the beginning of our friendship, and I think about our friendship now. It's one of my longest relationships. It's someone who knows me in a space that, like, even my best friends haven't worked with me on long, 12-hour days and stuff. So, we know each other in a very specific kind of way, and he's been my scene partner for eight, nine years now. It's crazy."
Further proof of Ray and Estes' ongoing friendship can be seen in a picture she posted on Instagram in October 2019. The image shows the actors in close proximity to each other and holding hands. Several emojis are used to describe the picture, including a female police officer emoji, a heart, a male police officer emoji, and the hashtag "#jamko," which is the fan-made portmanteau for their characters. 
It seems then that not only are the characters of Eddie Janko and Jamie Reagan close on screen, but the actors who play them also share a special bond, which is probably why they have such potent chemistry on "Blue Bloods."