Yellowstone's Jennifer Landon Finally Reveals Teeter's Biggest Secret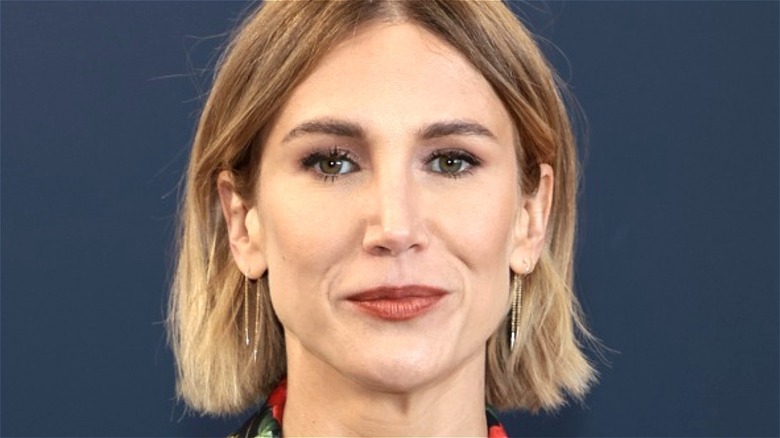 Dimitrios Kambouris/Getty
While much of the central drama in "Yellowstone" revolves around the members of the Dutton family, the principal source of arguably some of its best B stories is the Dutton ranch's bunkhouse. Whereas the Duttons more often concern themselves with bigger picture issues, the residents of the bunkhouse are essentially the ones keeping ranch operations running from day to day. Teeter (Jennifer Landon) won over "Yellowstone" audiences soon after her introduction due to how well she can hold her own among the stereotypically masculine bunkhouse boys.
In a typical episode of "Yellowstone," Teeter serves as comic relief. In fact, Season 4 alone includes enough comedic Teeter moments to warrant a list ranking them. Occasionally, though, Teeter has found herself in situations just as dramatic as those frequently occurring in the lives of her employers. For instance, in Season 3, John Dutton (Kevin Costner) nearly fires Teeter from her job on the ranch. She only manages to reverse this decision after tearfully pleading her case. When this episode aired, a number of fans found the fact that Teeter had to go to such lengths to be a bridge too far.
While these and other big moments have given viewers plenty of insight into Teeter's psyche, Landon recently shared a secret about her character that should come as news to virtually the entire "Yellowstone" fanbase.
Teeter is a huge monster truck fan
On March 30, well after the conclusion of "Yellowstone" Season 4, Screen Rant's YouTube channel published a video interview with Jennifer Landon about portraying Teeter. Midway through their discussion, Landon told interviewer Paul Shirey that one way she feels similar to her "Yellowstone" character is that, growing up, she felt uncomfortable with how so many activities are typically gendered, and that she often enjoyed doing things many people associate with boys. This led her to reveal something about Teeter that she claimed is not only unknown to most viewers, but even showrunner Taylor Sheridan.
"The one thing that the audience doesn't know — and I don't even know if Taylor knows this, but I know it from the inside — is that Teeter loves monster trucks," Landon said. "She loves monster trucks and she likes to go to monster truck shows wherever they are. Like, she wants to see the things go off the high things and land."
While this revelation shouldn't drastically change anyone's opinion of Teeter, it's nevertheless entirely new insight into her character while "Yellowstone" is off the air. Furthermore, if Season 5 happens to include a scene where Teeter attends a monster truck rally, it may well be because Landon only just went public with this information for the very first time.