Why Val Kilmer Purposefully Botched His Top Gun Audition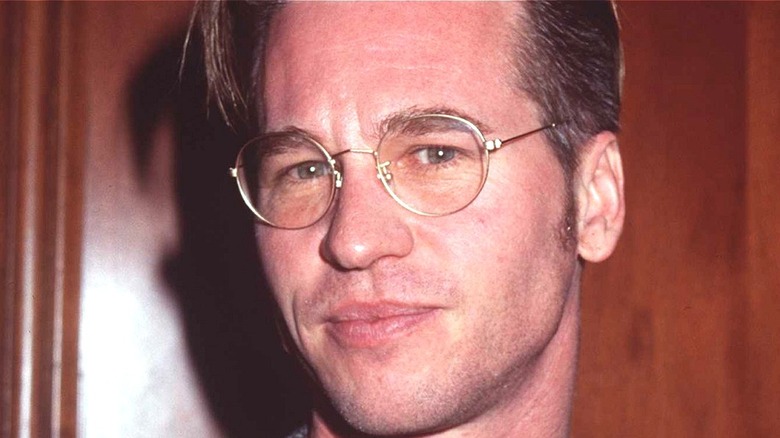 Robin Platzer/Twin Images/Getty
Val Kilmer is one of the most recognizable actors from the '80s and '90s. Combined, his films have grossed over $2 billion at the worldwide box office (via The Numbers). The American actor has appeared in a flurry of popular films like Michael Mann's "Heat" and Tony Scott's "True Romance." He also rather infamously played the Caped Crusader in "Batman Forever." While appearing as The Dark Knight can often be considered a career-defining choice, Kilmer's most popular role is arguably that of Iceman in "Top Gun."
Directed by Tony Scott, "Top Gun" became an immediate success when it soared into cinemas in 1986. While the blockbuster wasn't a critical darling — the film sports a splattered 57% from critics on Rotten Tomatoes — it went on to gross over $350 million (via Box Office Mojo). The box office hit stars Tom Cruise and Kilmer as two United States Navy fighter pilot students at odds with one another. As trailers for the film revealed, the duo are both set to return in the upcoming sequel, "Top Gun: Maverick" (via The Hollywood Reporter).
Seeing as "Top Gun" has gone on to become one of Kilmer's most famous films, fans will be surprised to know that the star purposefully put up a poor performance when it came time to audition for the blockbuster.
Val Kilmer didn't care for Top Gun's story
Decades after "Top Gun" debuted in cinemas and became a cultural phenomenon, Val Kilmer opened up about the film in his memoir, "I'm Your Huckleberry," which hit bookshelves in 2020 (via Sky News). In the book, Kilmer bluntly revealed that he initially wasn't much interested in the role of Iceman, nor the film itself.
"I didn't want the part," Kilmer wrote. "I didn't care about the film. The story didn't interest me."
So, why did he audition for the role? According to Kilmer, the only reason he became a part of 1986's highest-grossing film is that he shared an agent with Tom Cruise. "My agent, who also represented Tom Cruise, basically tortured me into at least meeting Tony Scott saying he was one of the hottest directors in town," Kilmer said.
According to Kilmer, when it came time for the audition, he purposefully gave a sub-par performance and tried to look like a fool. Despite botching his lines, the star nabbed the role, much to his disappointment. "I read the lines indifferently and yet, amazingly, I was told I had the part," Kilmer said. "I felt more deflated than inflated."
Now that the character of Iceman has gone on to define Kilmer's career, he also revealed in his tell-all that he was eager to return to the role in the upcoming "Top Gun: Maverick." Despite an apparent initial lack of interest from producers, the actor pitched Iceman-centric scenes to the film's creative team, including Cruise, which apparently went well. "The producers went for it," Kilmer said. "Cruise went for it. Cruise couldn't have been cooler."
"Top Gun: Maverick" is set to fly into theaters on May 27.