The Steven Seagal Movies That Have A 0% Rating On Rotten Tomatoes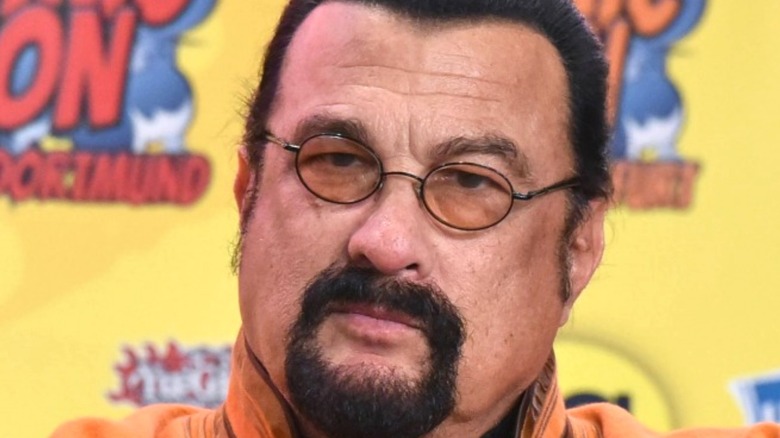 Tristar Media/Getty
Obtaining a 0% on Rotten Tomatoes is a feat that no filmmaker wants to achieve. While there are definitely plenty of movies that gain a cult following for being so-bad-they-are-good, most that fall to the depths of the critic website are the ones that are just so-bad-they-are-bad. There are plenty of movies that hold the "honor" of the 0% score, some with actors like Bruce Willis (Precious Cargo), Halle Berry ("Dark Tide"), and Kate Beckinsale ("The Disappointments Room"). Poor John Travolta has three ("Staying Alive," "Look Who's Talking Now," and "Gotti"). But one of the biggest action stars of all time also boasts multiple films on the list.
Steven Seagal was the go-to guy for an action movie in the '80s that needed a stoic face and a martial arts style that didn't involve high-flying kicks or much movement at all. From 1988 until 1995, he starred in seven movies that established him as one of the biggest action stars of the era. Two of those movies involved his Navy Seal killer-cook character, Casey Ryback. But since then, his life took a turn, and his work was less successful. He did everything from creating an energy drink to joining a police force. Mixed in there were many straight-to-DVD films that rehashed the same tropes that he built his brand on. But as ignored as most of these films were, two of them, in particular, made their way onto the Rotten Tomatoes 0% list.
The Foreigner was too convoluted
One thing Steven Seagal has a collection of is characters with names fit for action movies (or dad novels). With names like Mason Storm and Forest Taft or single-named badasses like Axe and Cross, he sets the tone for what the audience can expect. In 2003's "The Foreigner," his character, Jonathan Cold, keeps with that tradition.
The film follows Cold as he takes on the always original one-last job as a contract agent. He is taking a package from one country to the next, discovering along the way that the job is going to be more difficult than he imagined. Of course, more difficult than imagined is what Steven Seagal was built for. "The Foreigner" leans a little heavy on the action and the plot was too complicated to follow.
Even though the fans gave it a 25% on Rotten Tomatoes, the critics bestowed the big goose egg upon it. David Nusair of Reel Film Reviews said, "Every single scene that involves action invariably winds up a mess of slow-motion and over-the-top camera work." He continued, "Trying to discern just what's happening during fight scenes becomes a challenge, when it should've been a welcome respite from the convoluted storyline." He even goes so far as to insinuate that Seagal wasn't the action star he used to be, "As for Seagal, he seems to have gotten so large that stunt doubles are needed for some of the more complicated fight sequences." In true Seagal fashion, the reception of this movie wasn't bad enough to keep the star from getting a sequel, as a straight-to-DVD follow-up, "Black Dawn," landed two years later. 
Contract to Kill was not Seagal's big comeback
The 2010s were rough for Seagal. Many people from his past accused him of various forms of misconduct, showing him to be less than a pleasant person to work with. His professional career showed no sign of improving. Beginning in 2010, we saw a resurgence for many '80s action stars, thanks to the Sylvester Stallone vehicle, "The Expendables." Seagal, however, was left out of the project due to conflict with the people involved (via IGN).
His 2016 film, "Contract to Kill," did little to revitalize his career either. The movie follows a retired DEA agent, who is also a retired CIA agent, matching wits with both a cartel and a terrorist — which made no sense. Instead of a buddy-cop film where two former pros in their respective fields come together to face off in an epic team-up, the film just has Seagal have a past in both the DEA and the CIA — making the film arguably more Steven Seagal-ly than anything he has ever done in his career.
Critics weren't happy with the film, with Ignatiy Vishnevetsky of AV Club writing in a scathing review, "It is not sincere Ed Wood-ian incompetence that makes a movie like 'Contract To Kill,' but a complete absence of any traits apart from ego." He continued, "Seagal looks awful, sounds terrible, and regularly appears to be winded. Objectively, 'Contract To Kill' is the most carelessly made movie to be released theatrically by a major studio in a few years; its standards may even be called negligent. It belongs in a museum, along with all of the other Seagal curios."