Why Stan Hill From Good Girls Looks So Familiar
American television has seen its fair share of shows centered on antiheroes during the "Peak TV" era, but few of them have achieved the warmth, poignancy, and uniqueness of perspective of NBC's "Good Girls." Centered on three Michigan mothers who are forced to turn to crime in order to meet the financial demands in their lives, the show turned out modest yet consistent ratings across its four seasons, and managed to draw a huge fanbase in that time thanks to its engrossing, character-attentive writing and scrumptiously inventive direction.
The success of "Good Girls" is largely attributable to its brilliant central trio, consisting of Christina Hendricks as go-getter and de-facto team leader Elizabeth "Beth" Boland, Retta as doting homemaker and church member Ruby Hill, and Mae Whitman as Beth's sister, wisecracking single mom Annie Marks. But a major secret ingredient to the series' complex alchemy is the presence of Stan, Ruby's loving and deeply supportive husband. Here are a few of the places where you may have seen the actor who plays Stan Hill before.
Reno Wilson was one of the stars of The Chronicle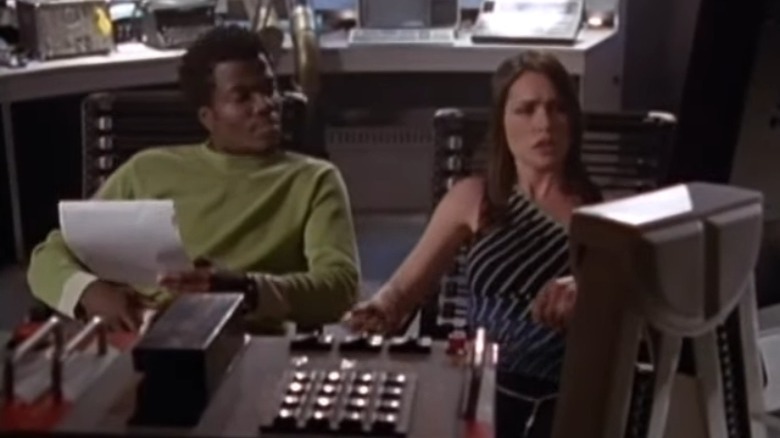 Sci-Fi Channel
American actor Reno Wilson has been acting on both film and television for over 30 years. Starting with his recurring role as Theo Huxtable's (Malcolm-Jamal Warner) college friend Howard on latter seasons of "The Cosby Show," he became a consistent television presence throughout the 1990s, appearing on series such as "Martin," "The Fresh Prince of Bel-Air," "Coach," and "NYPD Blue," and even landing a brief series regular role on the extremely short-lived CBS sitcom "If Not for You."
In the 2000s, he got his television breakthrough by way of the loopy sci-fi series "The Chronicle," which aired on the Sci-Fi Channel (since renamed SyFy) between 2001 and 2002. Created by Silvio Horta (also known for previously having written the screenplay to "Urban Legend" and later going on to develop "Ugly Betty" for ABC), "The Chronicle" was an out-there horror comedy that told the story of the staff at a tabloid newspaper named The World Chronicle, who were met with unexpected calamity when it turned out that the Chronicle's various sensationalistic reports about supernatural events were actually true. Wilson played photographer Wes Freewald, and appeared on all 22 episodes of the show's single season.
Reno Wilson had a supporting role as one of the detectives on Blind Justice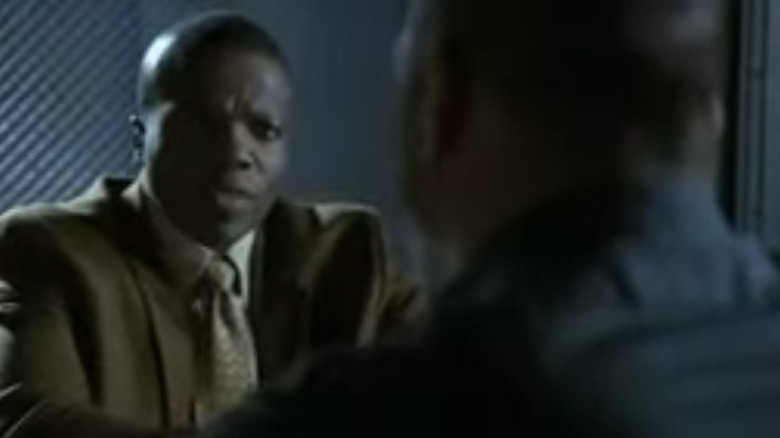 ABC
A few years after "The Chronicle" wrapped up in 2002, both Reno Wilson and Rena Sofer, who played reporter Grace Hall, joined the cast of another series in which they had supporting roles as members of a fraught workplace. The series in question was "Blind Justice," which aired on ABC in 2005 — also for a single season.
At the time it premiered, "Blind Justice" was touted for two discerning factors. The first was the fact that it was the show created by Steven Bochco, alongside Matt Olmstead ("Chicago Med") and Nicholas Wootton ("The Endgame"), to fill the time slot left open by the conclusion of Bochco's "NYPD Blue" after 12 legendary seasons. The second was its premise: "Blind Justice" followed Jim Dunbar (Ron Eldard), a NYPD officer who got blinded in the line of duty yet continued to work as a police detective. Wilson played Detective Tom Selway, the most open-minded out of Dunbar's coworkers, all of whom responded to his return to the precinct with some measure of skepticism.
Reno Wilson was featured in both Crank movies as Orlando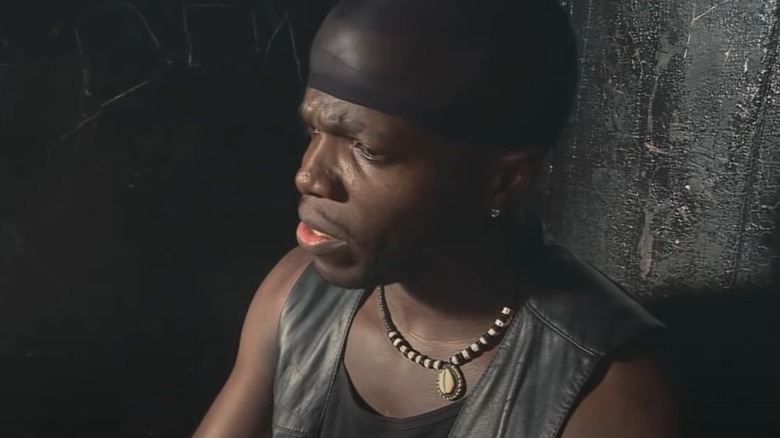 Lionsgate
There was a time not so long ago when the critical mainstream would routinely dismiss raucous, hyperactive, over-the-top action extravaganzas like the "Crank" films as mere empty calories. But, with the surgent rise of new critical perspectives on the meaning of auteurism and the mettle of "vulgar" genre cinema over the past decade, many off-the-cuff cinematic visionaries were showered with reappraisals, fan appreciation, and even academic analysis — perhaps none more so than Mark Neveldine and Brian Taylor.
As such, if you ask the right people, both 2006's "Crank" and its 2009 sequel "Crank: High Voltage" have graduated from undervalued Jason Statham vehicles to modern avant-garde masterpieces of action cinema. Following a hitman who is poisoned by a synthetic drug and must keep adrenaline flowing at all times to stay alive, the two films established their own inner mythology, with Chev Chelios (Statham) as unlikely wildcard hero and the Verona brothers (Jose Pablo Cantillo and Clifton Collins, Jr.) as his arch-rivals. One of the elements in that mythology was Reno Wilson's Orlando, a drug dealer who goes from a minor, antagonistic role in the first film to fighting alongside Chelios in "High Voltage."
He starred as Carl McMillan on all six seasons of Mike & Molly
Created by Mark Roberts, "Mike & Molly" is one of the sweetest, most effortlessly watchable series to have come out of the Chuck Lorre Productions sitcom pipeline. Starring Billy Gardell and Melissa McCarthy as, respectively, a police officer and elementary school teacher who meet at an Overeaters Anonymous chapter in Chicago and begin a relationship, the show ran for six seasons on CBS, and became notorious among House of Lorre concoctions for the genuine love and comedic opportunity it extended to all of its ensemble.
In addition to the protagonists' respective families, "Mike & Molly" also gave time to their friends and co-workers, one of whom was Officer Carlton "Carl" McMillan, Mike's Chicago P.D. partner, best friend, and confidante. Over the course of the show, Carl was faced with relationship issues and comedic predicaments of his own, and even took center stage on several episodes, often accompanied by his grandmother Rosetta (Cleo King). Aside from "Good Girls," this was Reno Wilson's biggest and most visible TV role yet: he appeared on every episode, and he remained a series regular right to the end of the series in 2016.
He gave an acclaimed performance as Louis Armstrong in Bolden
The recent cinematic wave of biographical films about overlooked Black figures in American history gained another chapter with "Bolden," a 2019 Dan Pritzker-directed film about the life of iconic cornetist Charles "Buddy" Bolden. A key member of the early-20th century New Orleans music scene, Bolden played a crucial part in the development of the ragtime-inspired rhythm that would come to be known as jazz — but, despite the greatness and historical weight of his accomplishments, his own life story was a tragic one.
Bolden is played in the film by Gary Carr, who embodies both the euphoric highs of the musician's tenure as "King Bolden" and the bitter realities of his eventual struggle with schizophrenia. The entire film is constructed around a framing device in which Bolden listens to a Louis Armstrong radio broadcast while committed to a mental hospital, and hr begins to reminisce about his life. We see snippets of the Armstrong performance in question throughout the film, and there, he is portrayed by a lip-syncing Reno Wilson. His performance as the jazz titan drew raves from critics, with Shadow and Act noting, "The renowned trumpeter is played to perfection by Reno Wilson (Good Girls), capturing his signature style and ebullience."