The Real-Life Building Where Vivian's Apartment Scenes Were Filmed In Pretty Woman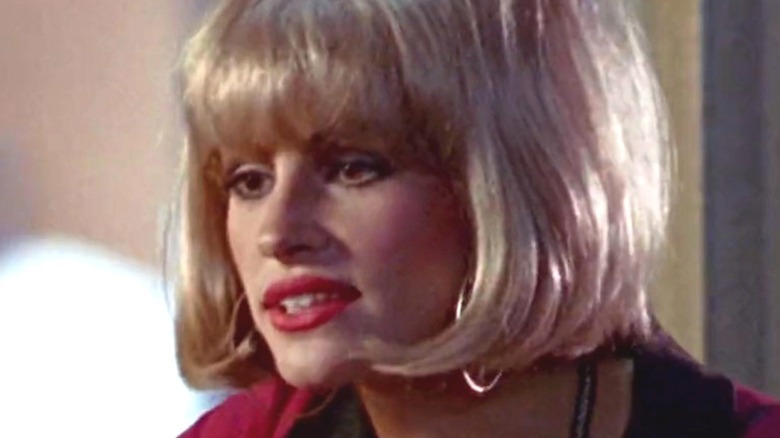 Buena Vista Pictures Distribution
Starring Julia Roberts and Richard Gere, "Pretty Woman" is one of the most classic romantic comedy films out there. Gere plays a high-powered corporate liquidator named Edward who travels to Los Angeles for work. On a whim, he hires a sex worker named Vivian (Roberts) to accompany him to a series of business events for the duration of his stay. Edward's no-nonsense personality clashes with Vivian's free-spirited attitude, but they soon warm up to one another and develop a genuine bond. 
The plot isn't very realistic, but the need for logic quickly fades thanks to Roberts' effervescent portrayal of Vivian, which earned her an Academy Award a nomination for best actress (via IMDb). It's the small moments between the characters that make the film so memorable. The famous jewelry box scene, the shopping montages, and the actor's undeniable chemistry all make for a great rom-com that audiences still love today.
Set in Southern California, many notable landmarks in Los Angeles can be seen throughout the film, such as the iconic Beverly Hills sign at the intersection of Santa Monica Boulevard and Doheny Drive. The film's conclusion famously sees Edward scaling the fire escape at Vivian's apartment in a nod to fairytales like "Rapunzel." Was Vivian's apartment in "Pretty Woman" actually located in Los Angeles, or did the filmmakers employ a bit of movie magic?
Vivian's apartment is actually a hotel in Los Angeles
No behind-the-scenes trickery here, folks! "Pretty Woman" actually was filmed in Los Angeles and many of the locations you see in the film, such as the Los Angeles Equestrian Center where Vivian and Edward watch a polo match, are the real deal. In an interview with Los Angeles Magazine, the film's production designer Albert Brenner confirmed that Vivian's apartment building is actually the Las Palmas Hotel, located near the intersection of Hollywood Boulevard and Las Palmas Avenue in Los Angeles. The final scene in "Pretty Woman" where Vivian and Edward passionately embrace on the fire escape of her apartment is so iconic that the Las Palmas Hotel is a popular stop on most Hollywood bus tours.
Vivian's shopping scenes were shot on Rodeo Drive and the movie utilized The Ambassador Hotel to double as the Regent Beverly Wilshire Hotel, although the penthouse Edward and Vivian stay in was a set built on a soundstage (via Los Angeles Magazine). Although The Ambassador Hotel has since been demolished, fans can get the full Vivian Ward experience at the Beverly Wilshire, which offers a "Pretty Woman for a Day" special. The experience includes a private shopping trip, a personal driver, and a couples massage, but you'll have to bring your own Richard Gere (via Four Seasons Hotels).