Who Plays McGonagall In Fantastic Beasts: The Secrets Of Dumbledore?
For those who don't know, "Fantastic Beasts: The Secrets of Dumbledore" is a movie drenched in the past. In addition to Albus Dumbledore (Jude Law), viewers also get to feast their eyes on another classic character from the Wizarding World of "Harry Potter" — Professor Minerva McGonagall. 
First introduced in the "Secrets of Dumbledore" trailer, McGonagall has arguably become one of the most exciting things about the third "Fantastic Beasts" entry, with many fans wishing she had more screen time. "I personally felt some type of way seeing Hogwarts again, being introduced to Professor Minerva McGonagall and all that," tweeted moviegoer @princededwards. "The fact that Minerva McGonagall isn't a major character in Fantastic Beasts we have been ROBBED," wrote another fan named @fattysalmonroll. 
A longtime fan favorite, McGonagall is a character that has grown near and dear to the hearts of viewers through her mentorship of Daniel Radcliffe's Harry Potter, and as leader of Gryffindor House in the "Harry Potter" movies. Of course, the older version of the professor was played by British star Maggie Smith. But when it comes to the "Fantastic Beasts" version, Warner Bros. decided to go with another actor from across the pond.
Irish star Fiona Glascott plays McGonagall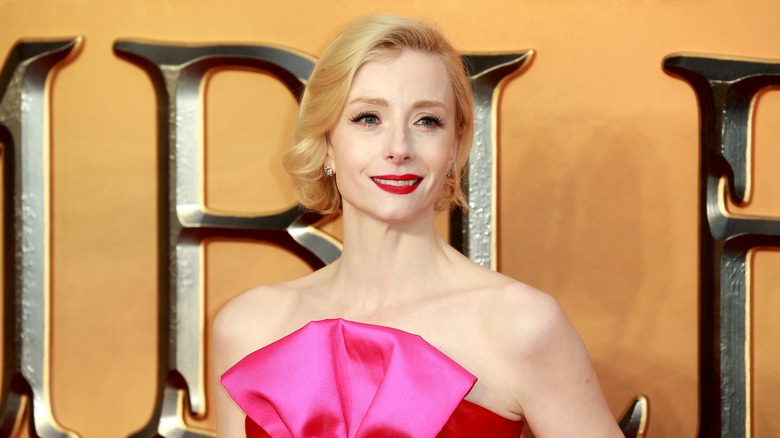 Cubankite/Shutterstock
The role of Professor Minerva McGonagall is played by Irish star Fiona Glascott, whose most famous works include a stint on the HBO show "Julia" and a number of movies, including "Anton Chekhov's The Duel" and "Brooklyn" (via IMDb). "Fantastic Beasts: The Secrets of Dumbledore" marks the first time since 2019 that Glascott has gotten to appear in a major motion picture, though she first portrayed McGonagall in 2018's "Fantastic Beasts: The Crimes of Grindelwald." 
While most viewers have been praising the McGonagall inclusion in the "Fantastic Beasts" franchise so far, some also have a bone to pick with her arrival. You see, according to the "Harry Potter" novels and all of the related source material, McGonagall wasn't actually born until 1935 — roughly eight years before the character's first appearance in "Fantastic Beasts: The Crimes of Grindelwald." In addition, there's also a flashback at one point during the movie that shows McGonagall serving as a professor in the 1910s (via Radio Times).
"According to Pottermore, Professor McGonagall was born on October 4, 1935 making her a -8 year old Professor," joked Twitter user @RohitaKadambi. "Impressive."