The Real Reason Aaron Paul's Cameo Isn't In The Weird Al Biopic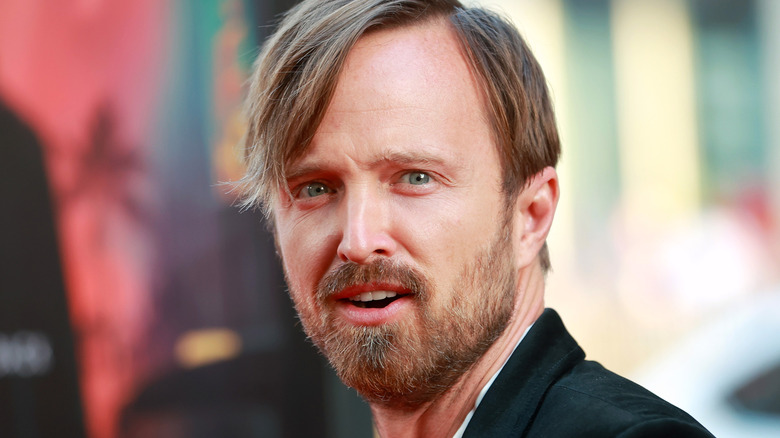 Matt Winkelmeyer/Getty Images
To many folks, Aaron Paul is probably best known for playing Jesse Pinkman on "Breaking Bad." However, he has an impressive filmography that goes beyond Pinkman. He can currently be found on "Westworld," and he provided the voice for Todd Sanchez on every season of "Bojack Horseman." However, his greatest role to date may just be something that isn't a feature film or a breakout TV series. Aaron Paul won over the hearts of countless individuals when he portrayed one of the most lovable performers in all of music, namely "Weird Al" Yankovic in Funny or Die's "Weird: The Al Yankovic Story."
For a glorious 163 seconds, Aaron Paul embodied the parody songsmith or at least a version of the singer who hooked up with Madonna and shouted at his fans on stage. Things took a turn for the ... well, weird, when it was announced the Weird Al story would receive the feature-length treatment as an honest-to-goodness Roku film. The only difference would be "Harry Potter" star Daniel Radcliffe portraying the greatest performer of all time. But as superhero films have already learned, you have to get the original star in a cameo when you make an adaptation. And as it turns out, there were plans for Aaron Paul to appear in the movie, but something got in the way of him showing off his polka face.
COVID put an end to Aaron Paul's Weird Al cameo
When the Weird Al movie comes out, audiences may feel dismayed not to find Aaron Paul anywhere. It's not for a lack of trying. The actor recently spoke with Cinema Blend about the project, including how he knows Daniel Radcliffe will absolutely crush it in the role, and he revealed that there were plans originally for him to cameo in the movie. But there was a very good reason why it didn't pan out
"I went to do it, and as I was waiting for my COVID test, they look up at me, and they're like, 'You have COVID,'" he related. "I'm like, 'What?' They're like, 'Yeah. You tested positive for COVID.' I go, 'Oh, no!' So I couldn't do it, and then I was just out for like 10 solid days. I have never felt more sick in my life. And so we couldn't do the cameo, which I just absolutely was crushed about."
Talk about a virus alert.
No doubt audiences will be disappointed they won't get the chance to see Aaron Paul either, but he took the setback in stride. He also confirmed what so many people have suspected over the years, and it's that Weird Al is genuinely one of the nicest people out there. He explained, "He's really just one of the kindest people I've ever met in my life, and I'm always in his cheering section. So I'm excited for people to see what they're doing over there." Even without Paul, there are plenty of reasons for fans to check out the Weird Al movie, including Evan Rachel Wood embodying Madonna.