Evan Rachel Wood's Transformation Into Madonna Revealed For Upcoming Weird Al Film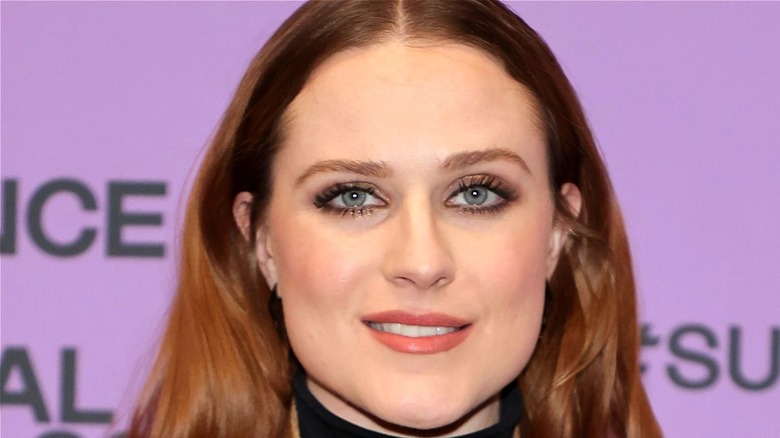 Neilson Barnard/Getty
The next biopic detailing a musician's life is in the works and will shine the spotlight on "Weird Al" Yankovic, the Grammy-winning singer known for his parody songs that poke fun at pop culture and often, other pop songs. The biopic, titled "Weird: The Al Yankovic Story," is a Roku original (the channel's first) and is co-written by Yankovic and Eric Appel ("Brooklyn Nine-Nine," "New Girl"), the latter of whom is also directing (via Variety). According to the official synopsis from Roku, the film will chronicle "every facet of Yankovic's life, from his meteoric rise to fame with early hits like 'Eat It' and 'Like a Surgeon' to his torrid celebrity love affairs and famously depraved lifestyle."
In January, it was announced that "Harry Potter" star Daniel Radcliffe would be taking on the job of portraying the musician. Yankovic said of the casting, "I am absolutely thrilled that Daniel Radcliffe will be portraying me in the film. I have no doubt whatsoever that this is the role future generations will remember him for."
Considering Weird Al is known for his parodies of other musicians' work, it makes sense that a few other familiar musical faces will show up in the biopic. Lucky for us curious fans, we just got the first look into the portrayal of one very famous musician: Madonna. The singer and icon will be played by "Westworld" star Evan Rachel Wood — and we have a photo giving us a glimpse into the actor's take.
Wood channels '80s Madonna in this first-look photo
In an exclusive first look via Rolling Stone, we have been given a glimpse into Evan Rachel Wood's portrayal of Madonna. In the photo, Wood is wearing a black vest with black lace sleeves, paired with a tutu-like skirt and long-hanging black cross earrings — all in all, the entire look is very reminiscent of an '80s Madonna look. As Rolling Stone points out, Weird Al Yankovic parodied Madonna's famous song "Like a Virgin" in 1985, titled "Like a Surgeon," with Madonna's permission — she may have even come up with the parody's title.
Wood took to Instagram to post the photo and wrote in her caption, "The secret's out! I am having WAY TOO MUCH FUN playing the iconic Madonna in @therokuchannel's WEIRD: The Al Yankovic Story with Daniel Radcliffe." Wood also posted a photo of herself in front of a "Madonna" sign (likely on her trailer) to her story with the caption, "So...this is happening." It's currently unclear how big of a role Madonna will play in the film.
In addition to Radcliffe and Wood, the cast of "Weird: The Al Yankovic Story" includes "The Office" star Rainn Wilson as radio host (and mentor to Weird Al) Dr. Demento, as well as Toby Huss and Julianne Nicholson as Yankovic's parents.
We can't wait for the next glimpse into Weird Al's world, ahead of the movie's eventual premiere.