The Law & Order Season With The Lowest Episode Count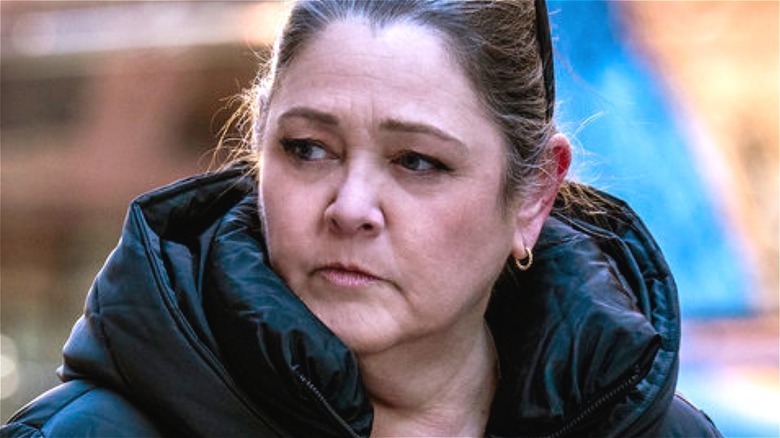 Zach Dilgard/NBC
Over the years, "Law & Order" fans have been gifted with some pretty hefty seasonal runs for both the original series and its spinoffs — with shows like "Law & Order: Special Victims Unit" and "Law & Order: Criminal Intent" each airing, on average, more than 20 episodes a season for at least a decade or more, along with the classic "Law & Order." But what about the little guys? What about the seasons and spinoffs that didn't get as much of a workload?
Ever since the "Law & Order" franchise first got off the ground in 1990, NBC and showrunner Dick Wolf have been trying to recapture lightning in a bottle with new and different television projects. This includes now-defunct TV shows like "Criminal Intent," "Law & Order: LA," "Law & Order True Crime," "Law & Order: UK," and "Law & Order: Trial by Jury." When it comes to rewatching many of these shows, it isn't too hard for viewers to get through most of them, seeing how they often fizzled out after just one season. Here's which season actually has the lowest episode count of all. 
Law & Order True Crime has the shortest season
With just eight episodes airing from September to November 2017, "Law & Order True Crime" starring Edie Falco is the franchise's shortest season (via IMDb). The show was a dramatization of the infamous Menendez brothers murder trial, which involved Lyle and Erik Menendez being prosecuted for killing their parents. The early 1990s court case had the media and American people transfixed, with it being broadcast to millions on Court TV (via EW).
According to Dick Wolf, "Law & Order True Crime" was ultimately a show that was supposed to get a very specific point across during its eight-episode run. He told The Hollywood Reporter in 2017, "This is a show that has an agenda. Your mind is going to receive information that I think will change a lot of people's attitudes. ... The research revealed things none of us knew, and that's one of the things that I think is most impactful about the eight hours."
At first, "Law & Order True Crime" was intended to be an anthology series with several different cases spotlighted. However, the show never actually got renewed, and was instead put on hiatus (via THR). It's unclear if NBC ever plans to bring it back.