Kiefer Sutherland Tells 24 Fans Exactly What They Want To Hear About Jack Bauer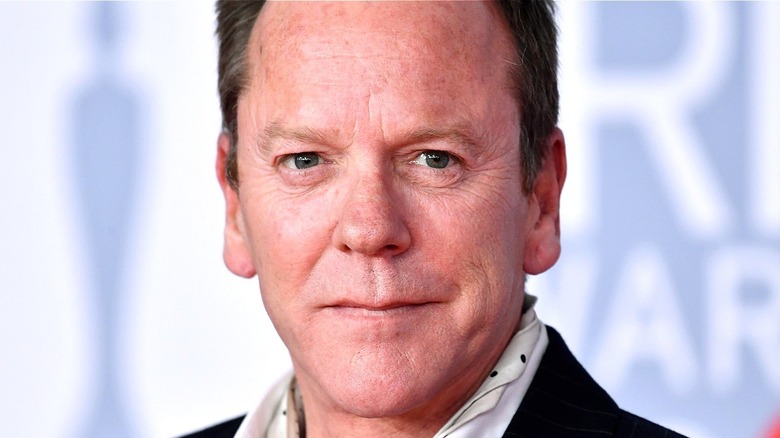 Gareth Cattermole/Getty
Kiefer Sutherland memorable starred as Jack Bauer for nine seasons of the Fox action-drama series "24." Each season follows 24 consecutive hours in the life of Bauer, a counter-terrorism agent, with the series utitlizing a real-time narrative — in other words, each 1-hour episode is 1 hour of Bauer's life. Each season sees Bauer working to thwart some kind of terrorist attack against the United States. 
In addition to the original run of the series, there was also a television film, "24: Redemption," which aired between Season 6 and 7. And, finally, the series returned for a limited series revival, titled "24: Live Another Day," in 2014. Sutherland starred in both of these projects. There was also a spin-off series that lasted one season, titled "24: Legacy," but it did not feature Sutherland's Bauer, and instead introduced new characters.
All in all, "24" fans have received a ton of content over the years, yet that doesn't mean that they aren't itching for Sutherland to reprise the role of Bauer yet again. So, what does Sutherland think about ever returning to the character?
Sutherland is open to returning to 24
Kiefer Sutherland recently gave an interview to GQ in which he discussed his most iconic characters — a topic that would not be complete without Jack Bauer, which is easily his most famous role to date.
Sutherland began by declaring that he misses the role, before diving into the topic of whether or not he would return. The actor said, "I have learned that you're just better off not to be definitive about your answer of whether you will do something or not do something. I love playing that character. I do believe the story is unresolved. And if something were to be written that made sense to me and that I thought was going to contribute to the franchise then I would be behind it, and even if my participation in that were to be limited."
Further, Sutherland brought up "24" showrunner and executive producer, noting that his involvement may be a driving factor in Sutherland's own decision to return. He said, "My involvement will always be predicated on what I perceive is the quality of the writing ... If [Howard Gordon] is motivated to something, we'll see what happens."
It's definitely the kind of answer that fans want to hear, and in our era of remakes, reboots, and revivals galore, it certainly doesn't seem like something that is completely out of the question. We'll just have to wait and see if a continuation of "24" ever comes to fruition.