The Reality Show You Likely Forgot Starred Steven Seagal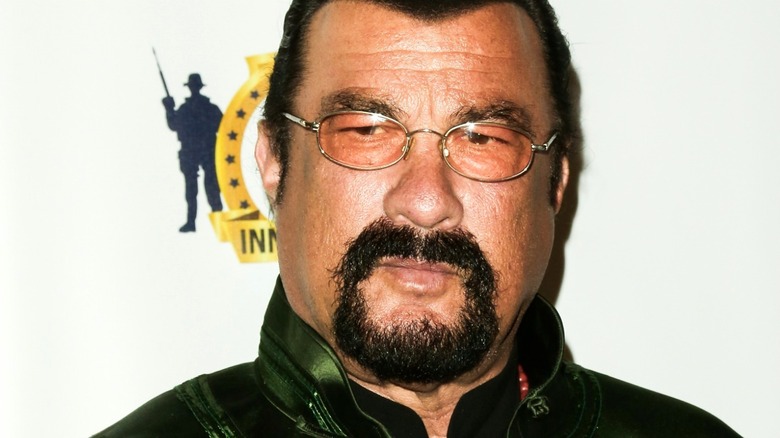 Paul Archuleta/Getty
Perpetually pony-tailed former action star Steven Seagal first rose to prominence in the late '80s and early '90s with a string of high-kick happy films that included director Andrew Davis' "Hard to Kill" and "Under Siege," the latter of which starred Tommy Lee Jones and was nominated for two different Academy awards (via IMDb). 
For years, the actor's martial arts pedigree and on-screen persona earned him a fandom that closely rivaled that of fellow actor Jean-Claude Van Damme (aka "The Muscles from Brussels"). By the early 2000s, however, big-screen demand for the actor and his genre began to wane, and the majority of his films could be found only in the direct-to-video market.
By 2009, the actor found himself sliding into a different genre — one that, to this day, serves as a welcome refuge for actors in the twilight of their careers who aren't quite ready to say goodbye to superstardom. That is, of course, reality TV. For three seasons, Seagal appeared in a "Cops"-like series that began on A&E and eventually moved to Reelz (via Reuters).
In Steven Seagal: Lawman, the actor lived in his own reality
The series, titled "Steven Seagal: Lawman," followed the cop-costumed actor as he tagged along with the major case squad in Jefferson Parish, Louisiana, and Maricopa County, Arizona. During the series, the actor pantomimed assisting law enforcement officers on drug busts and arrests while the camera frequently zoomed in on his determined (or confused; it's hard to say) face. Though the series' intro and premise claimed Seagal quietly worked as a police officer for nearly two decades, the L.A. Times' Scott Glover discovered this factoid was every bit as unlikely as it sounds.
In a 2009 article titled "Steven Seagal gets to play cop," Glover reported that neither California nor Louisiana officials could find any actual record of Seagal's training or certification. What's more, Glover's article further explained that the actor's position at the police station wasn't quite as grand as the TV series made it seem. In fact, Seagal was actually only one of about 200 volunteers on the department's reserve program, and his rank as deputy chief was only ever ceremonial in nature.
Ultimately, after just three seasons, Seagal walked away from the series and resigned from the department he already didn't actually work for (as Sheriff Newell Normand told the Phoenix New Times), rather than face an internal affairs investigation amidst allegations of sex trafficking and sexual assault (via The Wrap). Although a lawsuit related to those allegations was ultimately dropped in July of 2010 (via NBC News), this sadly was not the last bit of legal drama to orbit the reality series. The following year, Seagal and A&E were forced to settle a multimillion-dollar lawsuit with Idea Factory, who claimed Seagal had already signed on to make a similar series with another production company (via The Hollywood Reporter). The final episodes were released in 2014.
If you or anyone you know has been a victim of sexual assault, help is available. Visit the Rape, Abuse & Incest National Network website or contact RAINN's National Helpline at 1-800-656- HOPE (4673).