The Worst Blue Bloods Season 9 Episode According To IMDb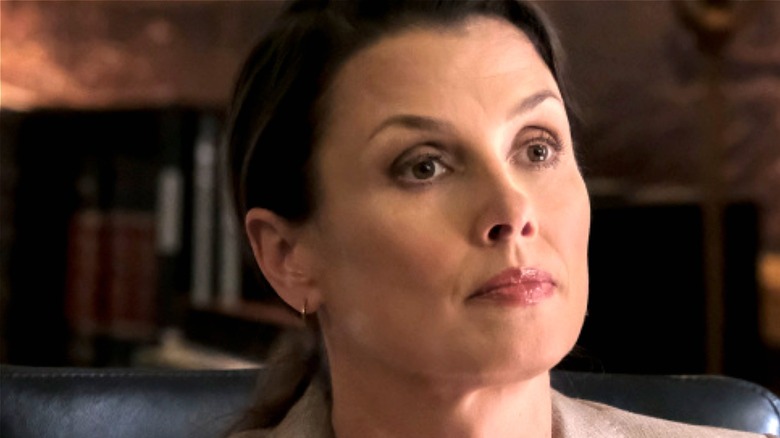 Jojo Whilden/CBS
Every show has its dud episodes, no matter how popular it is overall. For a show such as "Blue Bloods," which has consistently seen positive ratings and critical raves since its debut, episodes with lackluster reviews are often a rarity. But even television shows in their prime can have their hiccups, whether it's because of a new or unfamiliar director, writers, or even guest stars that don't work as well as hoped.For instance, when it came to Season 8 of "Blue Bloods," Episode 15 was not a fan favorite, seeing as it carries an IMDb user rating of 6.8 out of 10. What went wrong? In one review, a user said it came down to the writing and character work, particularly in regard to Frank acting in ways that didn't fit his behavior in other episodes and seasons. 
And the following season, whether it's a coincidence or not, the lowest rated episode of "Blue Bloods" Season 9 was not only directed by the same director as Season 8's most disappointing entry, but it also had the same writers — and unfortunately, both of these episodes received a similar reception. However, the problem likely has less to do with the creative talent involved than it does the fact that the latter episodes tries to put way, way too much on its plate.
Episode 15 is the worst episode of Season 9
The lowest rated episode of Season 9 of "Blue Bloods" is Episode 11, "Disrupted," with an IMDb user rating 7.6 out of 10. 
The episode has a lot going on, to say the least. Frank Reagan (Tom Selleck) gets into it with a community activist. Danny (Donnie Wahlberg) tries to smooth things over with a neighbor that doesn't want his daughter around Danny's son (Andrew Terraciano). Jamie (Will Estes) tries to make more decisions without his father's input. And Anthony (Steve Schirripa) is distraught over a dangerous patient who has stolen his wife's personal file. One IMDb user described the episode simply as "There is so much going on that it all crashes and loses momentum and just putters out."
The episode was directed by executive producer David Barrett, who has directed 57 episodes of "Blue Bloods," and written by Kevin Riley, Mitchell Burgess and Robin Green (via IMDb). 
While it's easy to blame the director or writers when viewers complain about an episode, it's worth noting that this group has also been responsible for some of the highest rated episodes of "Blue Bloods." The more likely reason for the discontent is that the episode simply had a dizzying array of stories, which left it feeling bogged down. There will always be episodes that not all fans can relate to, or like, but luckily for "Blue Bloods," the number of episodes that are loved by fans — including episodes by this same team — are much greater.