The Brand New Cherry Flavor Star Fans Can't Get Enough Of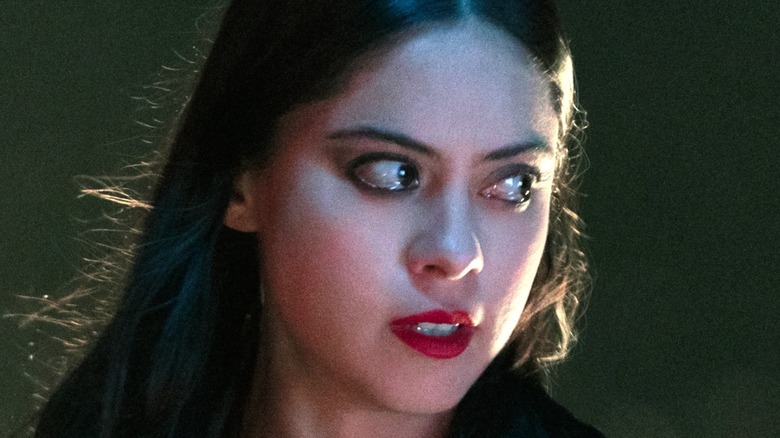 Merie Weismiller Wallace/Netflix
When folks talk about the better small screen cult hits in history, names like "Firefly," "Hannibal," "Twin Peaks," and "Channel Zero" are likely to enter the conversation in some capacity. And you can certainly see the influence of the latter two shows in a recent addition to the cult hit list, Netflix's "Brand New Cherry Flavor." That limited streaming series was, after all, co-created by "Channel Zero" mastermind Nick Antosca, who blended the pure horror elements of his prior show into a narrative that some might argue matches David Lynch's iconic series in terms of sheer ethereal oddness.
Based on Todd Grimson's novel of the same name, "Brand New Cherry Flavor" follows aspiring filmmaker Lisa Nova (Rosa Salazar) as she arrives in 1990s Los Angeles hot to direct her first movie. Once in town, she finds the showbiz game to be more full of skeezy opportunists and wildly colorful characters than she ever could've anticipated. And soon enough, Lisa becomes enmeshed in a bizarro plot for revenge that turns her Hollywood dream into a full-blown waking nightmare.
She does so with the help of a character the word "colorful" simply does not do justice to. And the small, but devoted group of "Brand New Cherry Flavor" fans out there continue to obsess over the actor who portrays her. 
Catherine Keener is the real star of Brand New Cherry Flavor in the eyes of many fans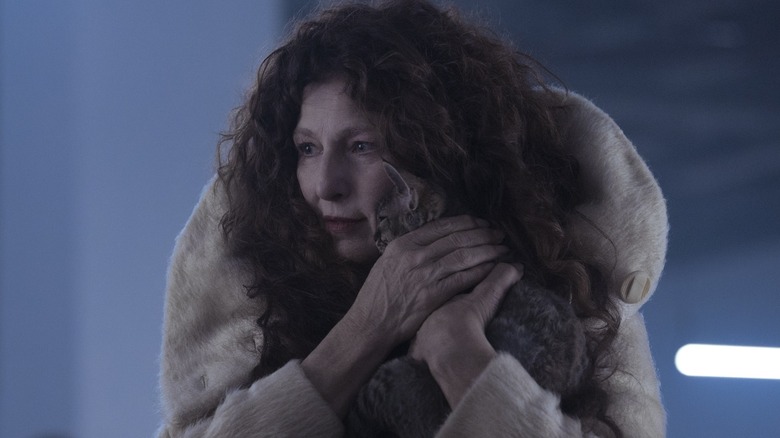 Sergei Bachlakov/Netflix
That actor is Catherine Keener. The character she portrays in "Brand New Cherry Flavor" is the kitty-loving, curse-casting demon-witch known as Boro. And according to a recent Reddit appreciation thread from u/AmericanBornWuhaner, the actor's work in "Brand New Cherry Flavor" is one of the series' standouts. Said thread is titled simply "Let's appreciate how awesome Catherine Keener was playing Boro," with the O.G. poster promptly following up their original with a sub-post stating, "Watching Boro was so much of the series' entertainment."
Seems they were really not alone in their adoration of Keener's scene-stealing turn in "Brand New Cherry Flavor" either, with u/LeafyEucaliptis posting of the actor, "She is so charismatic. I don't know how it's possible for a human being to be so charismatic honestly." That post was followed by one from u/Novel_Brilliant stating, "She's incredible and I loved her in this," and another user soon piled on the Keener love with, "Agreed, I loved watching her performance. I always got intrigued when she appeared in a scene, thinking something wild is about to happen."
Indeed, Keener's mere presence in a "Brand New Cherry Flavor" scene all but ensured some truly twisted stuff was about to go down. And when it invariably did, u/Bebedoris felt Keener looked amazing every step of the way, claiming "Also she looked incredible with her boho witch outfits. She rocked the powdery face and blue lipstick so much." Still, anyone who's seen Keener at work in the series knows her impact goes beyond costume and make-up-induced vamping. Of course, coupled with Keener's boundless talent, and obvious enthusiasm for playing the outlandish character way over-the-top, those elements helped Boro become a character you simply could not look away from. Clearly "Brand New Cherry Flavor" fans didn't want to.