Noomi Rapace Broke Her Nose On The Set Of Unlocked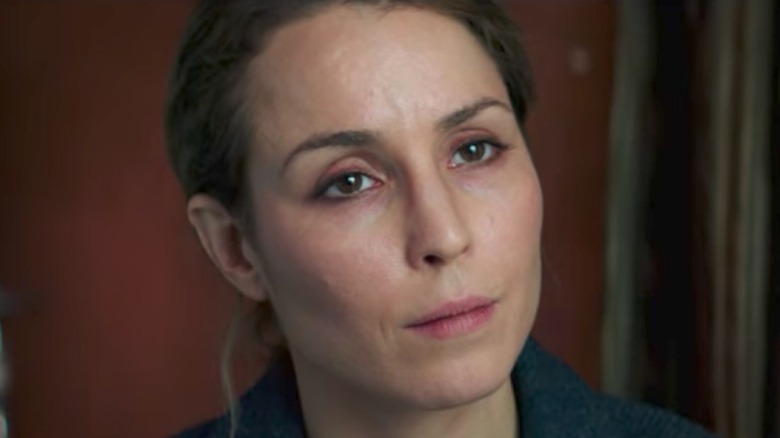 Noomi Rapace has played many an action hero on screen, and it turns out she's basically one in real life as well. The actress revealed that she suffered a scary accident on the set of her upcoming thriller Unlocked, breaking her nose and even blacking out for a second.
The movie follows Rapace as Alice Racine, a former CIA investigator who has been on voluntary desk duty for a few years after failing to stop a deadly terrorist attack in Paris. However, Alice is called back into the field when the agency needs her help to "unlock" a suspect involved in a potential biological attack. She soon begins to suspect that the high-level CIA sources may not be who they appear to be, leading to a deadly chase across London.
Rapace said that her nose broke when she got hit by an elbow. "It was an accident, but still I blacked out for a second," she said in a phone interview with Looper. "Just like I heard this crack in my face and that was a bit scary. I have so many injuries, you can't imagine, my body is like a map. Map of scars and marks from my films." Despite the fact that Rapace has amassed quite a few injuries on set, the actress still says that she likes being able to do her own stunts. "I've been doing martial arts my whole life, and I love fight training, tae kwon do, judo, thai boxing," she said. 
Those action skills are definitely on full display in Unlocked, a twisty thriller that Rapace says she was drawn to because it was so unpredictable. "It has this kind of old school classic spy movie spine, but at the same time it felt really modern, because it's a woman doing it and she's struggling with her past," Rapace said. "She's kind of traumatized by things, and then you know, she's kind of thrown out, dragged out from that kind of emotional protected prison, and then when she's back on the field she kind of comes to life again." 
Orlando Bloom, Michael Douglas, Toni Collette, and John Malkovich also star in Unlocked, which was directed by Michael Apted (The World is Not Enough) based on a script from Peter O'Brien (Halo: Reach). The movie hits theaters and on-demand on Sept. 1; for now, see some other actors who had to deal with scary injuries while on set.