The Moon Knight Episode 3 Detail Fans Can't Stop Celebrating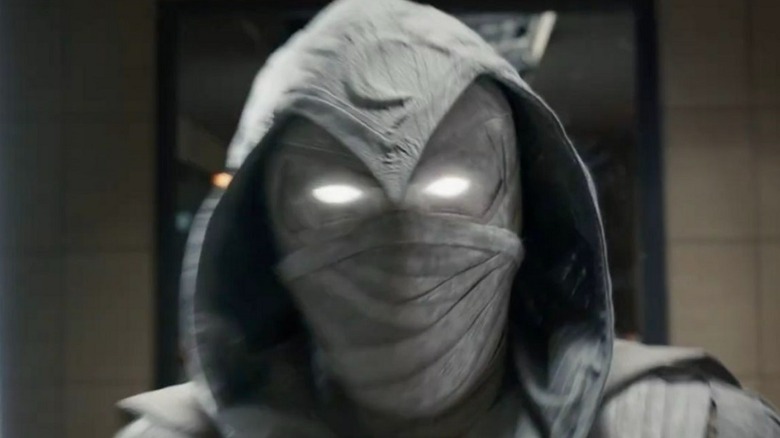 Marvel Studios/Disney+
As the wait for big-screen adventures like "Doctor Strange in the Multiverse of Madness" and "Thor: Love and Thunder" continues, Disney+ has kept Marvel Cinematic Universe fans entertained with "Moon Knight." The limited series stars Oscar Isaac as the titular vigilante — whose name is either Marc Spector or Steven Grant, depending on which personality is at the wheel — as he struggles to regain control of his mind. At the same time, he has to rise to the occasion to save the world from the mysterious Dr. Arthur Harrow (Ethan Hawke) and his legions of devoted followers.
At the time of this writing, "Moon Knight" is halfway through its small-screen run, and things are certainly beginning to heat up. Now reunited with his estranged wife, Layla El-Faouly (May Calamawy), Marc, as well as the Egyptian god that has imbued him with superhuman abilities, Khonshu (F. Murray Abraham), are in a race against the clock. They must prevent Harrow from unearthing the tomb of Ammit and unleashing havoc upon the world by any means necessary. Although, one has to wonder by the end of Episode 3, "The Friendly Type," if they actually stand a chance at all.
"Moon Knight" Episode 3 had a lot of moving parts and bombarded viewers with a lot of information all at once. In doing so, it also presented fans with an important and praise-worthy detail that's more than worth a second look.
Fans find Moon Knight's presentation of Egypt refreshing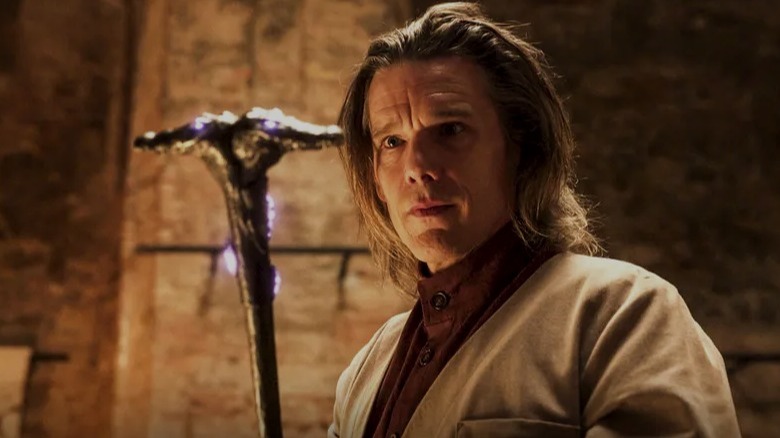 Marvel Studios/Disney+
Naturally, as part of their quest to bring Ammit back into the world, Arthur Harrow and his disciples have traveled to Egypt in hopes of locating her resting place. Marc and Layla followed, paving the way for plenty of action and adventure to occur in "The Friendly Type," in settings ranging from busy marketplaces to sandy dunes. All the while, "Moon Knight" did an excellent job of portraying modern Egypt respectfully and as a real place — a refreshing change of pace from longstanding insensitive Hollywood stereotypes of the country that many fans took notice of.
"I'm so happy with the representation of Egypt in moon knight, it's literally perfect. seeing cairo depicted beautifully and not like we're living in a perpetual sandstorm is so refreshing and nice. Thank you Mohamed Diab and all the crew members for this," wrote Twitter user @Saffiinaz, and as evidenced by similar tweets from @Helloitsnada_ and @giselleb1234, among others, they were far from alone. 
@Spideyskitty admitted that "Moon Knight" was the first time they saw a depiction of Egypt from Hollywood that made it look like a real, modern place, and @desitonystark was happy that Marvel Studios didn't slap a tacky, overused sepia filter over the Egypt scenes. @tha_rami also commended Episode 3 for featuring multiple different Egyptian locales throughout its runtime.
The minds behind Moon Knight wanted to depict Egypt properly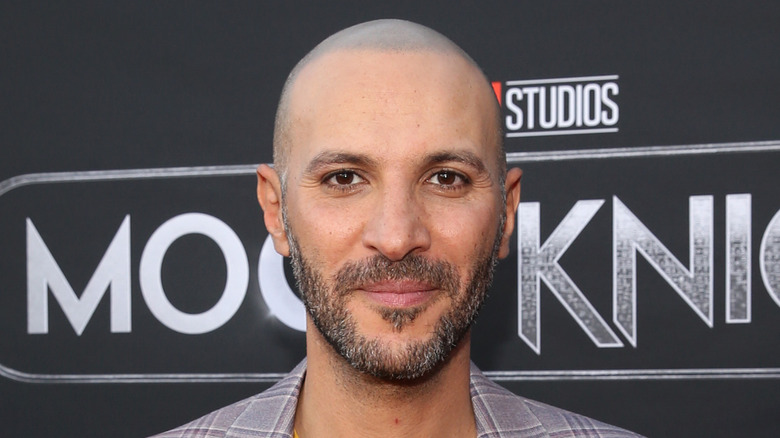 Jesse Grant/Getty Images
It's worth noting that "Moon Knight" didn't actually film in Egypt, instead calling places such as Budapest, Hungary, Wadi Rum, Jordan, and Atlanta, Georgia home. Therefore, the crew putting the show together had to effectively create their own Egypt elsewhere, which could've easily led to cut corners and creative liberties. However, "Moon Knight" director Mohamed Diab refused to settle for generic, uninspired, and dated interpretations of the country, as he explained to IGN in a March 2022 interview.
"It was very important for me to portray us as normal human beings. Even the location itself, showing Cairo, which always we see the pyramids in the middle of the desert, even though if you just looked a little bit to the right, the pyramids are in the middle of the city, and it's twenty million people, and we have skyscrapers, and it's a normal place just like this," Diab explained, noting that it was crucial for him to break down damaging tropes of Egypt and its people in every way possible.
Considering the immensely positive reaction to Diab's presentation of Egypt in "Moon Knight" Episode 3, it's safe to say he and the other minds behind the production made something incredibly special. Hopefully, it's a sign of some long-overdue change in the entertainment world regarding how nations and cultures are portrayed in film and television.