The Big Role You Likely Never Knew Better Call Saul's Bob Odenkirk Had On SNL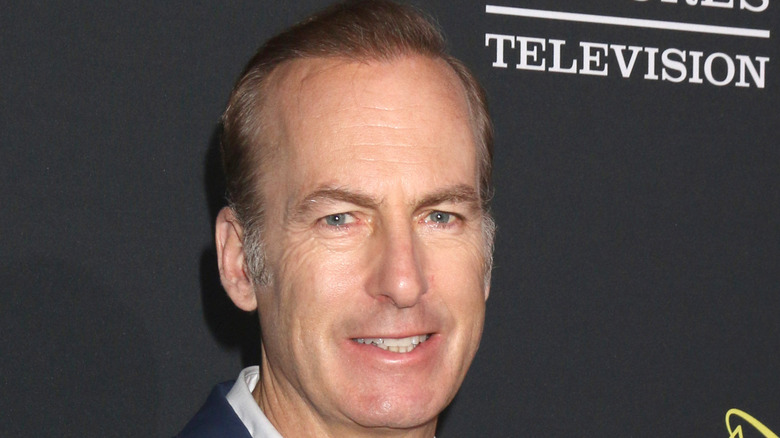 Kathy Hutchins/Shutterstock
"Better Call Saul," the AMC series about an Albuquerque lawyer who will do anything to avoid the courtroom, will premiere its sixth and final season on April 18, 2022. By now, star Bob Odenkirk, who plays Jimmy McGill/Saul Goodman, has emerged as a major dramatic ator. In those six seasons, has been nominated for the Emmy for Outstanding Lead Actor in a Drama Series four times, in 2015, 2016, 2017, and 2019 (via The Emmys).
Of course, Jimmy/Saul started off as a supporting character on "Breaking Bad." Odenkirk joined the cast of "Breaking Bad" in Season 2 (2009), when Walter White (Bryan Cranston) and Jesse Pinkman (Aaron Paul) hired him to launder their drug money. At that time, seeing Odenkirk in a dramatic role was much more unusual. Odenkirk got his start in the sitcoms and sketch comedy world. Years before bringing Jimmy/Saul to life, Odenkirk worked on many of the most critically acclaimed and highly watched comedy shows of his era. That includes the NBC institution "Saturday Night Live."
Bob Odenkirk was a writer on Saturday Night Live from 1987 to 1995
A native of Illinois, Bob Odenkirk was a company member at Chicago's Second City when he was hired to write for "Saturday Night Live" in 1987. His fellow Second City members Chris Farley and Tim Meadows would also be hired at Saturday Night Live, in 1989 and 1991 respectively. 
Odenkirk would work for "Saturday Night Live" for eight years. He's best known for creating Farley's Matt Foley character, the down-on-his-luck motivational speaker character who lives "in a van down by the river." It regularly ranks among the funniest sketches in "SNL's" 47-year history.
During his "Saturday Night Live" years, Odenkirk was active on several other comedy shows, as either a writer, performer or both, like the MTV sketch series "The Ben Stiller Show." From 1993 to 1994, was one of the staff writers for Conan O'Brien "Late Night," helping establish the show's absurdist tone.
After leaving "Saturday Night Live," Odenkirk teamed up with David Cross and others to create "Mr. Show with Bob and David," an influential late-night sketch series on HBO that ran for four seasons from 1995 to 1998. Today, In addition to his dramatic acting, Odenkirk still occasionally produces and appears in sketch comedy shows, like Adult Swim's "Tim and Eric Awesome Show Great Job," "The Birthday Boys" on IFC, and Netflix's "I Think You Should Leave" (via IMDb).