Bruce Willis' Role On Friends Earned Him A Huge Honor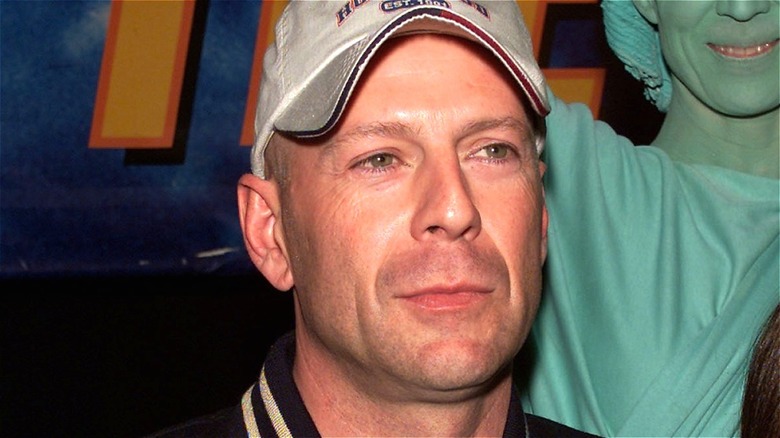 Evan Agostini/Getty
From 1994 to 2004, the hit NBC show "Friends" was a worldwide phenomenon, grossing millions of views every season. When its much-anticipated finale aired, 52.46 million viewers tuned in to watch the beloved cast for the last time, making it the fourth most-watched series finale ever (via Decider). As one reviewer explained about the mastery of "Friends," "The show was perfectly cast, the writing was snappy... and the plotting, as the Ross and Rachel story built, was a masterpiece of delayed gratification" (via The Guardian).
During its acclaimed run, the series introduced a variety of A-list guest stars, many of whom appeared onscreen as compelling characters in their own right. Even today, fans continue to discuss which actors made a memorable splash on "Friends" (via Collider), whether it was Winona Ryder's portrayal of an eccentric sorority sister or Ben Stiller's histrionics as a terrible first date. In the iconic two-part episode "The One After the Superbowl," Julia Roberts notably played Susie Moss, a childhood peer of Chandler Bing (Matthew Perry). According to executive producer Kevin Bright, the sought-after actress was initially hesitant to guest star on the show. In fact, she reportedly told Perry to write a paper on quantum physics to convince her to sign onto the episode –- which he did (via THR).
However, this would not be the first time that Perry encouraged a famous celebrity to appear on the series. He later invited Bruce Willis to join "Friends" as a recurring character, which eventually paid off in dividends for the action star.
Bruce Willis won an Emmy for his performance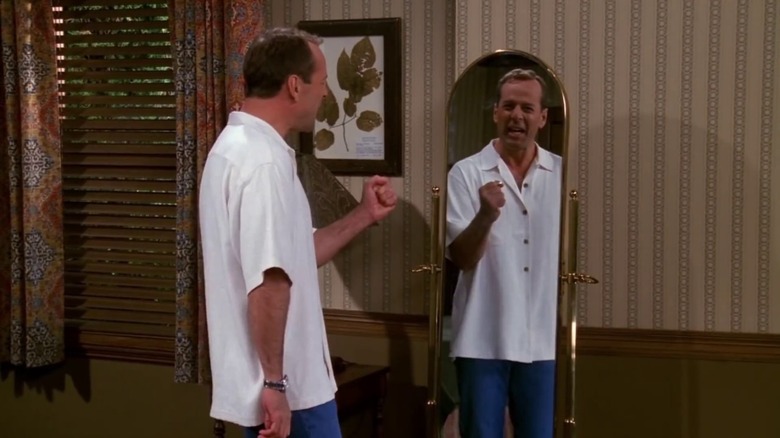 NBC
During Season 6 of "Friends," Bruce Willis appeared in a three-episode arc as Paul Stevens, the father of Ross Geller's (David Schwimmer) college-aged girlfriend, Elizabeth (Alexandra Holden). While grappling with his daughter's relationship with Ross, Paul strikes up an unexpected romance with Rachel Green (Jennifer Aniston). Ultimately, however, Rachel chooses not to continue dating the overprotective father.
In 2000, Willis won an Emmy for outstanding guest actor in a comedy series for his humorous and dynamic performance on "Friends" (via The Emmys). Interestingly, a rumor persisted that Willis had only agreed to star on the show after losing a bet to Matthew Perry while shooting "The Whole Nine Yards." Allegedly, Perry wagered that if the film topped the box office, Willis would have to make a cameo on "Friends" for free (via Screen Rant).
Yet, one part of this account was soon debunked — Willis did receive a paycheck for his work on the series. However, he donated his earnings to five charities: The American Foundation for AIDS Research, AIDS Project Los Angeles, the Elizabeth Glaser Pediatric AIDS Foundation, the Rape Treatment Center, and the UCLA Unicamp for underprivileged children (via Entertainment Weekly).
While the other half of the story seemingly remained unconfirmed by both actors for years, Willis later verified the rumor during an interview with WIRED in 2018. In the video, Willis chuckles and states, "I was on 'Friends' because I lost a bet to Matthew Perry."
Of course, as noted above, this clearly worked in the actor's favor.