The Character You Likely Forgot Denzel Washington Played In Much Ado About Nothing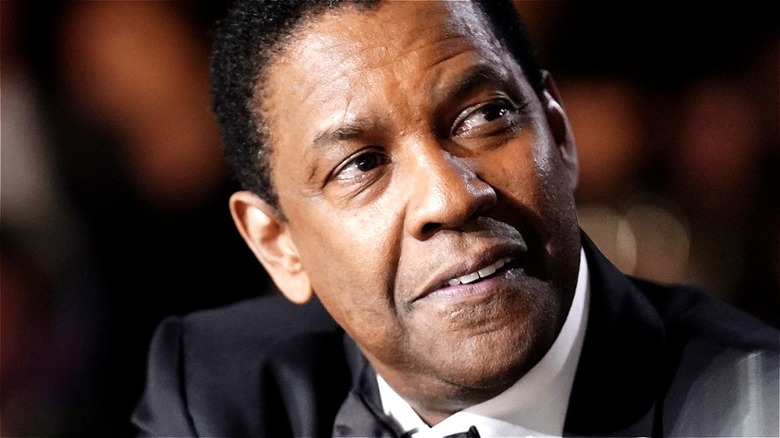 Erik Voake/Getty
There are actors, then there are great actors, and then there is Denzel Washington. You'd be hard-pressed to find a figure in contemporary American cinema who more readily embodies all the characteristics of a legendary, era-defining thespian — from his towering screen presence, to his unwavering commitment to the intricacies of every role big or small, to the originality and intelligence of his choices, to his taste for a broad palette of different cinematic modes and styles. All that goes without saying, really. His name alone carries a weight. It's Denzel Washington.
In 2021, Washington's soaring persona was savvily propelled to new heights by filmmaker Joel Coen, along with that of fellow legend Frances McDormand, in a properly monumental Expressionist take on "Macbeth," the legendary William Shakespeare play about a Scottish lord turned mad by the pursuit of power. Critics were quick to note how much Washington's iconic voice and idiosyncratic delivery added to the Bard's solemn text, and his performance netted him all manner of acclaim, including the 10th Academy Award nomination of his career (via IMDb). But those who have been following Washington's career closely for a long time weren't surprised by how well he acquitted himself in "The Tragedy of Macbeth." After all, we're talking about an actor with ample Shakespearean experience — including a previous role in the 1993 film version of "Much Ado About Nothing."
Denzel Washington played Don Pedro of Aragon in Much Ado About Nothing
Like many if not most actors with a strong background in theater, Denzel Washington knows a thing or two about performing Shakespeare. One of his very first acting gigs, in fact, was a multi-role appearance in a 1979 off-Broadway production of "Coriolanus," which was followed over the years by performances as Richard III of England in "The Tragedy of Richard III" in 1990 and Marcus Brutus in "Julius Caesar" in 2005 (via Broadway World).
Therefore, not only was Joel Coen's "The Tragedy of Macbeth" not his first rodeo, but neither was the other Shakespeare screen adaptation he did nearly 30 years prior: Kenneth Branagh's "Much Ado About Nothing." A comedy with romantic elements, "Much Ado About Nothing" tells the story of the web of intrigue that forms when a band of heroic soldiers arrive for a stay in the Sicilian town of Messina. In Branagh's acclaimed film version, Washington plays Don Pedro, Prince of Aragon, who acts as a middleman — and wingman — in the entanglements between Claudio (Robert Sean Leonard) and Hero (Kate Beckinsale) as well as Benedick (Kenneth Branagh) and Beatrice (Emma Thompson). 
If you count yourself as a fan of Washington, the movie is not one to miss, as it gives him the chance to display a lighter, more comedic side of his talents as a performer.