The Gilbert Gottfried Weird Al Show Appearance You Probably Forgot About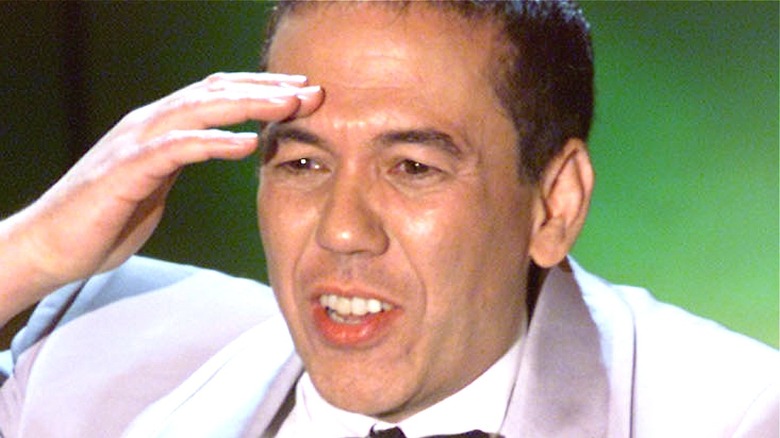 Frank Micelotta Archive/Getty Images
Comic Gilbert Gottfried passed away at the age of 67 on April 12, 2022, and he left a legacy of laughter behind him. Aside from becoming a comic icon in the 1980s thanks to his signature voice and appearances in the movies like "Problem Child" and Disney's "Aladdin," the actor was no stranger to television work. He notched appearances on sitcoms like "Night Court," "The Cosby Show," "Married...With Children" and "Mad About You." Gottfried also appeared in projects as diverse as "Sesame Street" and "The Aristocrats."
With such a large resume behind him, it's probably not a shock that he appeared on a program headed up by a comedic musician who's got a long-lived fanbase of his own: "Weird Al" Yankovic. Gottfried appeared on Yankovic's CBS Saturday Morning program "The Weird Al Show," which, per IMDb, lasted for just 13 episodes in 1997. Do you remember which role Gottfried took on during his appearance on the show?
Gilbert Gottfried played Weird Al's imaginary friend
Gottfried, per IMDb, appeared in the episode "Al Gets Robbed," which happens to be the series finale of "The Weird Al Show." Gottfried portrays the accordion-playing cut-up's so-called imaginary friend — who is also named Gilbert. 
During the episode, Al's subterranean cave home is robbed while he and Harvey the Wonder Hamster are away at a convention. At first, Al panics, as he has a show to put on and nothing to entertain his viewers with. Stuck with no props or interesting objects to show his audience, Al is saved when pro wrestler "Macho Man" Randy Savage bursts into the room and encourages Al to use his imagination, sparking a wrestling match between Al, Savage, and Harvey. Subsequently inspired, Al reads a letter from a viewer who wants advice to help him handle a bullying problem. The reader has an imaginary friend and Al is encouraging and kind about it. "And by the way, there's absolutely nothing wrong with having an imaginary friend. In fact, I still have an imaginary friend. I call him Gilbert," Yankovic says.
Cut to Gottfried in a blue suit, shouting that of course, his name is Gilbert and that he is, in fact, not imaginary. The comic proceeds to work himself into a lather, trying to prove to Al that he's real, but Yankovic remains oblivious to the fact that the comic exists, even offering to tell his viewers what the "imaginary" Gilbert is saying. Gottfried eventually storms out of the room, letting in the R&B group All-4-One on his way out. The band greets Al and Al only, causing Gottfried to leave with one last shouted quip: "Oh, just ignore me. I'm imaginary!"
Gottfried's influence on the comic landscape is, and will forever be, anything but.