Tales Of The Walking Dead Teaser Promises A Bloody Good Spin-Off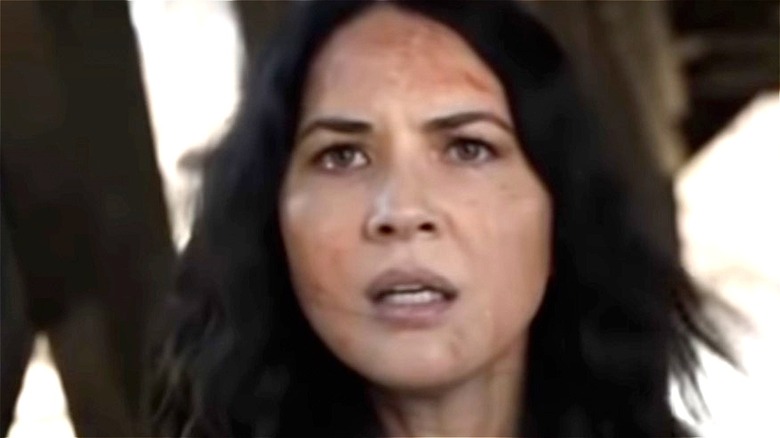 Lots of zombie-themed franchises can say that they've depicted the gory fall of mankind, but how many can boast that they've taken things so far that you can actually witness as the society slowly starts to rebuild? That's "The Walking Dead" territory, right there. The long-running post-apocalyptic show has come a long way from the chilling hospital opening of Season 1, and while it's true that the original show is coming to an end after the ongoing season, the world at large just keeps on turning.
With its numerous spinoffs and an upcoming movie, "The Walking Dead" has proved that the combination of grim human drama and the ambient threat of the titular walking dead is a winning one. The upcoming "Tales of the Walking Dead" intends to write a whole new chapter in this story of survival ... and, if a new teaser of the spin-off is anything to go by, it should be a pretty great one. 
Six stories in a world gone wrong
The teaser opens with a screen that's split in six parts that show different events, indicating that the show will have six episodes that all tell different stories. Some of them feature entirely new characters, such as the ones played by Olivia Munn and Terry Crews. Others seem to focus on familiar — though not necessarily pleasant — figures, such as Samantha Morton's Alpha, and Jeffrey Dean Morgan's Negan. 
However, after a few seconds of various characters doing their own things just before things go severely sideways, the teaser shifts tone and quits the split-screen method in favor of a more traditional view. Of course, the events that transpire can't exactly be called "traditional," seeing as the following scene depicts a woman deliberately exposing her neck to a walker, in an apparent effort to get over the whole biting thing as quickly as possible. As the screen fades to black, a blood-curdling scream indicates that this plan wasn't particularly well thought out. 
"Tales of the Walking Dead" premieres on AMC and AMC+ in summer 2022.