Tales Of The Walking Dead Just Added A Former X-Men Star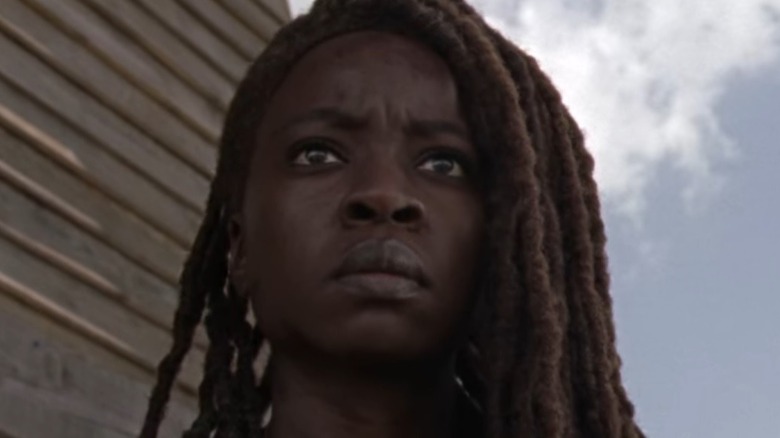 AMC
When "The Walking Dead" debuted on AMC back in the fall of 2010, few could've predicted we'd still be talking about it more than a decade later. Nor could they have anticipated that the post-apocalyptic zombie drama would serve as the flagship series in a small screen franchise now three shows strong. 
Yet here we are. And even with "The Walking Dead" barreling towards its own series finale, the undead universe it spawned is set to expand yet again with "Tales of The Walking Dead." Unlike the shows that preceded it, "Tales of The Walking Dead" will not follow any central storylines or characters. Instead, the upcoming series will explore the already well-trod, walker-infested world anthology-style in a series of one-off episodes which may occasionally tie in to storylines from the other "Walking Dead" series.
As production on "Tales of The Walking Dead" ramps up, the series has begun assembling a solid cast of actors to bring its survival stories to life. And that cast now includes a former star of the "X-Men" franchise.
Olivia Munn is joining an already impressive cast for The Walking Dead anthology series
Per a recent report from The Hollywood Reporter, that star is none other than Olivia Munn, who's perhaps best known for playing the nefarious mutant known as Psylocke in the 2016 film "X-Men: Apocalypse." Munn also made memorable appearances in films like "Iron Man 2," "Magic Mike," and "The Predator," as well as small screen hits like "Chuck," "New Girl," and "The Newsroom." As for who Munn will be playing on "Tales of The Walking Dead," that has not yet been revealed, as producers continue to keep an exceedingly tight lid on any plot details surrounding the series. 
What we do know from that THR piece is that Munn is joining a cast that already boasts more than a few impressive names, including Parker Posey ("Dazed and Confused"), Anthony Edwards ("ER"), Terry Crews ("Brooklyn Nine-Nine"), and Jillian Bell ("Office Christmas Party"). Per the same report, we know standout "The Falcon and The Winter Soldier" supporting player Danny Ramirez, "The Boys" breakout Jessie T. Usher, and film and TV vet Embeth Davidtz ("Army of Darkness," "The Morning Show") are also on board for undisclosed roles.
So, in case you weren't already hyped to see what "Tales of The Walking Dead" has in store, that seriously impressive cast list should more than do the trick. Though no official release date has been announced, THR reports "Tales of The Walking Dead" is tentatively scheduled to debut later this summer.