Directors Justin Benson And Aaron Moorhead Reveal Why Action Figures Play A Big Role In Moon Knight - Exclusive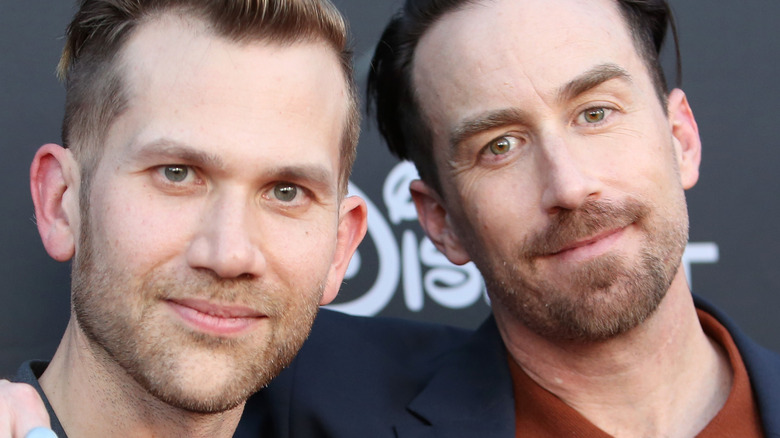 Jesse Grant/Getty Images
One of the biggest benefits of superhero films and TV shows is that a bevy of awesome toys related to the projects, including action figures, are generally released as well. While some fans may simply display their favorite superhero figure on their work desk or shelves at home, kids big and small also like to use the mini representations of their favorite characters to recreate action scenes. 
Sometimes, though, filmmakers look to action figures to conceptualize what they want to accomplish in front of the camera, like "Moon Knight" directors Justin Benson and Aaron Moorhead, who direct Episodes 2 and 4 of the new Marvel Studios series. Benson and Moorhead aren't alone in their approach. In fact, word surfaced recently that director brothers Joe and Anthony Russo used action figures to plan a pivotal scene in "Captain America: Civil War" in 2016. By that time, enough action figures had been made of the "Avengers" saga characters that the coordinators for the scene could use them to design the airport tarmac battle.
In "Moon Knight," Oscar Isaac stars as former mercenary Marc Spector, who, due to his dissociative identity disorder, also lives his life as nebbish museum gift shop employee Steven Grant in London. Together, though, they have the ability to transform into the vengeance-seeking avatar of Khonshu (voice of F. Murray Abraham), the Egyptian god of the moon. In an exclusive interview with Looper, Benson and Moorhead said they not only utilize action figures to plan out their shots, but sometimes a figure will also become part of the action on screen.
A Moon Knight action figure provides a meta moment in the series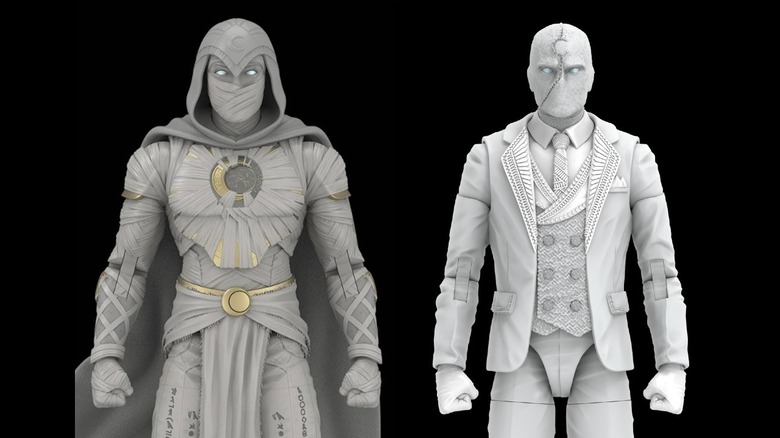 Hasbro
In one of Justin Benson and Aaron Moorhead's episodes, Spector-slash-Grant is seen holding a Moon Knight action figure based on the character's appearance in the Marvel Comics. The directors said in their world, action figures serve more than one purpose on set.
"We use them if they're available to us. We'll use action figures in the shot listing room when we're with our director of photography; in this case, Andrew Palermo, who's such a special guy, such an amazing talented guy," Benson revealed. "So much of what you all see on screen is his magic ... [he's] such a genius. When we're working with him in a room, we'd oftentimes have several action figures out that you can play around with and make it easier. You also have little toy cars. It's all very, very childish!"
Regarding the action figure shot in "Moon Knight," Benson it was fun to add a meta-aspect to the series. "What's so special about this action figure thing is the comic book is oftentimes at its most bold when it's being meta, and there is a meta-aspect to this action figure thing. That's like, 'Oh, it doesn't feel forced, it doesn't feel low-brow,'" Benson added. "It doesn't feel like, 'Look how clever we're being' or anything. It's a very elegant, simple meta flair."
Moorhead said the inspiration to get meta with "Moon Knight" was also inspired by the source material.
"The comics that we really love play with the form as well," Moorhead explained. "That's the whole legacy of comics, not just 'Moon Knight.' Any comic that plays with the form directly or indirectly, we really love. We tried to bring that same sort of idea to our episodes."
"Moon Knight" is streaming exclusively on Disney+, with new episodes every Wednesday through May 4. Hasbro also announced that it will soon be releasing figures of Moon Knight in his ceremonial costume from the miniseries (via Marvel), as well as Mr. Knight.