Death Note's Nat Wolff Talks Creating A New Version Of Light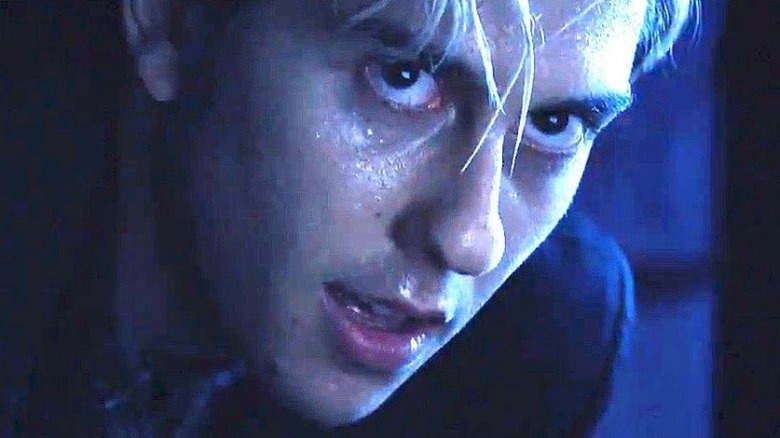 Warning: This post contains spoilers for the Netflix adaptation of Death Note. 
It's plain to see that Light Turner in Adam Wingard's Death Note is quite a far cry from the Light Yagami seen in the original manga and anime written by Tsugumi Ohba and illustrated by Takeshi Obata. Though these two Lights are similar in life circumstances, their demeanors are markedly different, and the actor behind the live-action Light opened up about such variations.
Speaking with ScreenCrush, Nat Wolff discussed how he crafted a new version of Light as portrayed in the recently released Netflix adaptation. Wolff's Light is an angsty teen who's nearly smacked in the face by a mysterious notebook that falls from the sky. Upon discovering the powers the Death Note, as it's called, possesses, Light becomes bent on both justice and revenge, yearning to give others their just desserts. He meets the sharp-toothed death god named Ryuk (voiced by Willem Dafoe), teams up with his classmate turned girlfriend Mia (Margaret Qualley), creates a vigilante persona, and goes on a evil-ridding killing spree.
When asked how much of his character he based on the Death Note anime, Wolff admitted that he feels it's important to "be careful with basing too much off the anime." As Wolff puts it, Light Yagami was "kind of like a megalomaniac and... he didn't worry about anybody's feelings or anything" in the source material. These characteristics are shifted in Wolff's Light Turner, who, as the actor describes, "starts off more as an outcast." Wolff added, "I think it's true that a lot of time outcasts will try to deal with being an outcast by trying to get control in some negative way. So I thought this was an interesting one."
From Wolff's perspective, the outcast element of this film version of Light contributed to his overall desire to become a vigilante. "I think it has to do with the fact that he's an outcast and doesn't seem to have any control over his world, which is very common for teenagers who feel like things sort of happen to them," he explained. "You know, when you're a kid you become accustomed to not being in control and you're okay with that. And as soon as you get older, you start fighting all the powers that be so you can't get some semblance of control and this is sort of an extreme version of that."
So, while Wolff knew of the variances between the two Lights on a surface level, was he familiar with the anime personally? "Vaguely," Wolff stated. "I knew it through my buddy, Justice [Smith, whom Wolff acted alongside in John Green's Paper Towns], who was a huge fan of it, and my two little cousins were crazy about it. So I'd been hearing about it for a year. And then when I read the script and heard Adam was doing it, I was already really excited about the opportunity, but I thought I should really delve deep into it before I agreed to be part of it."
Wolff continued, stated that he thought the Netflix adaptation was "going to be honoring the story" of Death Note but wouldn't "be anything like anything that's already been done." He stated he was intrigued by the project for that reason, and hinted that if it had stuck more closely to the films that had already been released, it would "be kind of boring" for him and the audience. 
Moving forward, Wolff revealed that he would return for future sequels, which director Wingard has expressed a desire for, under one condition: change Light's hair color. "[I'd like to] maybe find some way around having my hair blond because that was a year of trying to get it back to my normal color. So maybe I'll be shaved-head Light," Wolff said. 
Death Note is just one of many new Netflix flicks. Check out some of the rest by taking a look at the 25 best exclusive Netflix releases.