The Sandra Bullock Movie That Angelina Jolie Refused To Take Part In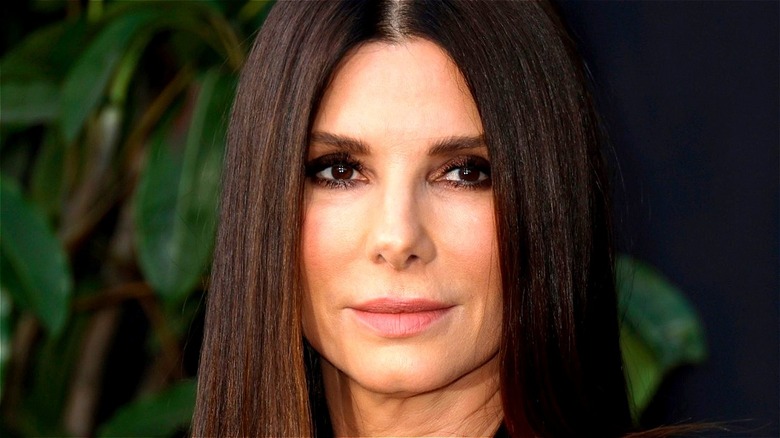 Frazer Harrison/Getty
Sandra Bullock and Angelina Jolie are two of the biggest movie stars of the past 30 years. Both actors first rose to prominence and achieved mainstream success in the 1990s, with Bullock starring in classic films like "Speed" and "A Time to Kill." Jolie, meanwhile, appeared in notable '90s movies like "Girl, Interrupted," "Hackers," and "The Bone Collector." The two actors have each won Academy Awards throughout their careers as well, with Bullock scoring an Oscar in 2010 for her performance in "The Blind Side" (via IMDb) and Jolie winning one in 2000 for her supporting turn in "Girl, Interrupted" (via IMDb).
Taking all this into account, it shouldn't come as much of a surprise to learn that Bullock and Jolie have, at least once in their careers, been up for the same role. What fans of the two stars might not know, however, is that Jolie actually ended up passing on the film that earned Bullock her second Oscar nomination.
Angelina Jolie chose not to go to space with Alfonso Cuarón
Sandra Bullock turned in one of her finest performances to date in "Gravity," which still ranks as her highest-rated film on Rotten Tomatoes. The sci-fi thriller stars Bullock as Ryan Stone, an astronaut who finds herself stranded in space following an unexpected accident. For her performance in the film, Bullock was nominated for a best actress award at the 2014 Oscars. However, it turns out that Bullock only got the lead role in "Gravity" because another star passed on it.
Director Alfonso Cuarón confirmed in 2014 (via The Hollywood Reporter) that he had originally talked to none other than Angelina Jolie about playing Bullock's role in "Gravity." That said, while Cuarón confirmed that Jolie was interested in participating in the film, he also revealed that she passed on it due to scheduling conflicts with several of her other projects. "I had conversations with Angelina, but then she went to do one film, and then she was going to direct [Unbroken]. Something happens, you part ways," Cuarón said.
In the same interview, the filmmaker also confirmed that he had originally intended to cast "Iron Man" star Robert Downey Jr. in "Gravity" as Matt Kowalski, a role that George Clooney ultimately played. According to Cuarón, the technology required to shoot "Gravity" wasn't conducive to Downey Jr.'s performance style, which is what led to the actor departing the project.
The good news, of course, is that both Jolie and Downey Jr. have gone on to maintain incredibly successful careers in recent years. Therefore, while it would have been interesting to see them appear in "Gravity," it seems safe to say that, in the end, everything worked out well for everyone involved.