The Supernatural Easter Egg You Might Have Missed In The Boys Season 2
Throughout its 15 seasons on the air, The CW's "Supernatural" covered a plethora of deadly beasts and otherwise unsavory monsters. If you're a fan of the series, one of the many people you have to thank for it is Eric Kripke. Not only did Kripke create the series, but he also served as its showrunner for a whole five seasons (via CinemaBlend). While some creative types would probably have been satisfied to sit back and rest after such a notable achievement, Kripke has spent the intervening years working on a number of different projects, including everything from NBC's "Timeless" to Amazon Prime Video's "The Boys."
Of course, while Kripke has successfully moved on from "Supernatural," it remains one of his most popular series. Throughout each subsequent project, he has kept in touch with his roots. "Supernatural" actor Jensen Ackles will be joining "The Boys" Season 3 as Soldier Boy, a Vought supe from the past who will surely remind audiences of a certain Marvel character. Notably, Ackles is not the only connection "The Boys" has to "Supernatural." Some fans on Reddit caught an Easter egg in "The Boys" Season 2 that would warm the heart of any "Supernatural" fan.
Eagle-eyed fans spotted the iconic Impala in one shot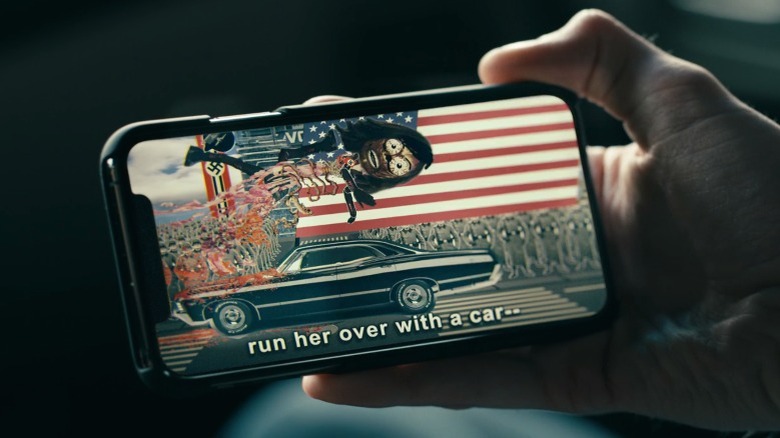 Amazon Studios
Fans are not likely to miss some of the most prominent callbacks in "Supernatural." In addition to Ackles' upcoming role, Season 2 of the superhero series sees "Supernatural" actor Jim Beaver play the role of Secretary of Defense Robert A. Singer. Of course, this casting choice and name are both clever references to Beaver's previous role in "Supernatural." In that series, Beaver played the recurring role of Bobby Singer, a paternal figure to the Winchester boys. 
Notably, this season of "The Boys" goes a step further with another deeper "Supernatural" reference. After Stormfront is revealed as a white supremacist in the season finale, the public quickly turns against her. In response, the internet creates a graphic animation that depicts Stormfront's murder by vehicle. More than a few viewers noted that the car in question is none other than Dean's prized Chevy Impala from "Supernatural." The classic car is hard to miss, especially when considered alongside the other connection to Kripke's former show. Indeed, throughout the course of "Supernatural," the Impala is almost a character itself. 
Of course, many eagle-eyed viewers quickly took to Reddit to note the reference. In a post that included a screencap of the moment, u/DWayman wrote, "Is that Baby the Impala? Soldier Boy easter egg?" Many other Reddit users were quick to agree. This post received more than 500 upvotes, in addition to a plethora of comments noting Beaver's role. "Great catch!" posted u/Riftirk. "Could have been any car but they choose the Impala." The shot is a blink-and-you'll-miss-it moment, but it certainly proves the "Supernatural" fandom remains alive and well.