Kaley Cuoco's Major Instagram News Has The Big Bang Theory Fans Talking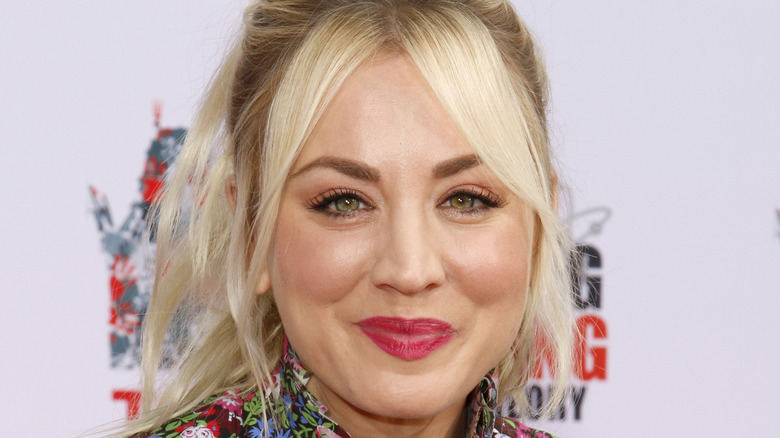 Tinseltown/Shutterstock
Ever since the popular sitcom "The Big Bang Theory" wrapped up in 2019 — after 12 glorious years on CBS — the fans have been praying for a reunion. The show originally featured five characters: roommates Leonard (Johnny Galecki) and Sheldon (Jim Parsons), their friends: Howard (Simon Helberg) and Raj (Kunal Nayyar) — all of them, scientists — and Penny (Kaley Cuoco), an aspiring actress who lived across the hall from Leonard and Sheldon. The show followed the geeky bunch, as well as Penny, who was somewhat of an odd duck in the middle of science-obsessed men, as they navigated their personal and professional lives in Pasadena, California.
Since the show's conclusion, the beloved cast of the show have not appeared together ... and in the age of revivals and reboots, "The Big Bang Theory" fans have been left waiting. Any news that takes viewers back to the good old days of the show's time on the air is enough to get any fan excited, and that's exactly what happened when Cuoco — who is now known just as much for "The Flight Attendant" and "Harley Quinn" — posted some buzzworthy "Big Bang Theory" news on her social media.
Cuoco announced the release date of a behind-the-scenes look at The Big Bang Theory
First off, no: there isn't a "Big Bang Theory" reunion coming anytime soon (that has been announced, anyway). Still, while Cuoco's news is not said reunion, fans will get to revisit everything that happened in the making of the series through the book "The Big Bang Theory: The Definitive, Inside Story of the Epic Hit Series," written by Jessica Radloff. 
Fans won't have to wait long, either. Cuoco, in an Instagram post, revealed that the book will go on sale on October 11, 2022. Cuoco also detailed the contents of the book in her post, revealing it will contain inside stories, interviews, and even Polaroid photos that she took during the making of the show. 
Since posting the news, Cuoco's Instagram has seen a flood of attention from fans of the sitcom, with (at this time of writing) over 700 comments. One fan, @jthorn915 wrote, "I'm definitely buying this! I was a freshman in college when 'Big Bang' first aired. It ensured that even if I was having the worst day ever, I would still end it with many laughs."
Meanwhile, global fans of the show were interested to know about the book's sale in other parts of the world. @sarahgreenslade1994 commented, "Where can I buy this in he GB in Wales[?]" Some even inquired if the book will be translated in other languages, to which the author, Radloff, replied, "Hopefully eventually. Will keep you all posted" (per Good Housekeeping).