Why The Swamps Of Sadness In The NeverEnding Story Mean More Than You Think
We can all remember that one moment in a movie that has scarred us forever. Those moments stay etched in our collective memories, but, of course, as we get older, we realize what they really mean. Wolfgang Petersen's beloved 1984 classic "The NeverEnding Story" (based on the fantasy novel by Michael Ende) has been a nostalgic piece of film history, touching the hearts and souls of audiences of all ages around the world.
The movie is centered around a boy, Bastian Bux (played by Barret Oliver), who discovers a book called "The NeverEnding Story." Bastian's name suddenly appears in the book and he begins to wonder if the magical realm of Fantasia is real, soon embarking on a quest to save the land before "The Nothing" destroys it. The film deals with relatable themes and underlying, poignant messages surrounding a traumatic experience, grieving, and losing a loved one. However, there is one scene, in particular, involving the hero Atreyu (Noah Hathaway) and his cherished horse companion, Artax. It's a scene that has a significantly resonant and esoteric meaning in the larger picture of life regarding a young man coming to terms with the looming shadow of death and its lasting repercussions.
A deeper meaning about depression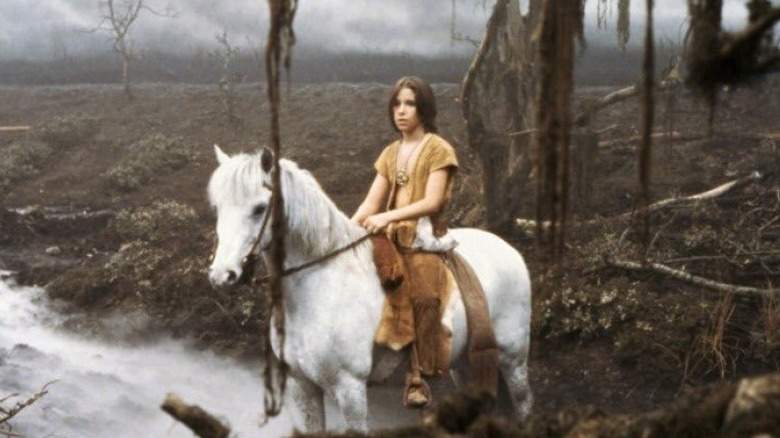 Warner Bros.
As with any great hero in any great story, when faced with a challenge they learn the most about themselves, the weight of their vulnerabilities, and the inner strength to overcome them. An unavoidable part of Atreyu's journey to see the ill and dying Childlike Empress (played by Tami Stronach) is to wade through the bleak Swamps of Sadness (a literal and symbolic representation of depression) with Artax. At one point during their trek, Artax gets stuck in a mud pool because he gets too depressed and unable to go further. Atreyu hopelessly struggles to pull him along, but Artax keeps sinking deeper and deeper into the muddy quicksand. Much to Atreyu's heartbreak, Artax gets completely devoured by the never-ending pool of blackness.
Atreyu losing his best friend to the "darkness" is seen by some viewers as a disturbing metaphor for suicide. According to one critic at Buzzfeed, "It's an absolutely horrific scene, and it's made even worse when you realize that Artax is being swallowed by his own despair." Atreyu has to confront Artax's death and continue his quest alone, which closely parallels losing somebody near and dear to you, yet having to keep going no matter how painful the reality of not having them around anymore can be. 
The horrifying scene teaches us how to deal with difficult and unpleasant feelings, while still having to move forward in our lives despite the hollowed pangs of emptiness. Atreyu's loss (similar to the death of Bastian's mother), is an allegorical turning point in the story, making him stronger and more aware of his own aversion to pain. As heartbreaking as Artax's death is, it allows Bastian to bond with Atreyu over their shared suffering, which, in its own beautiful way, is a cathartic beginning in the process of healing.
If you or anyone you know is having suicidal thoughts, please call the National Suicide Prevention Lifeline​ at​ 1-800-273-TALK (8255)​.