Whatever Happened To Jonesy From The Waltons?
"The Waltons" were one of TV's most beloved –- and supersized –- TV families. John and Virginia Walton (Ralph Waite, Michael Learned) had a long list of "goodnights" to say each night, what with seven kids and two grandparents living in their rural Virginia home. And over the course of the CBS drama's nine seasons, the clan expanded even more with the addition of new spouses and grandkids.
One of the most heartbreaking "Waltons" storylines was when Mary Ellen Walton's (Judy Norton) husband, Dr. Curt Willard, was presumed dead following the attack on Pearl Harbor in World War II. He miraculously reappeared, but the couple ultimately divorced, and it was several years before the mother of one found love again, this time with Arlington Wescott Jones III, aka "Jonesy," played by Richard Gilliland. Jonesy first turned up in the 1981 "Waltons" episode "The Whirlwind," per IMDb. The character only appeared in two episodes of the original series, which ended in June 1981, but Gilliland returned for three "Waltons" TV movies in 1982, including a Mother's Day reunion special in which Mary Ellen and Jonesy wed on Walton's Mountain.
Forty years after her character found love with Jonesy on "The Waltons," Norton looked back at the character with fondness. In June 2021, Norton posted a YouTube video about fathers and talked about how her TV husband became a role model for her character's son, John-Curtis, as well as Jonesy and Mary Ellen's later children, Clay and Katie. "He was a wonderful mentor and role model for John-Curtis as he was getting older. So, a great addition to the Walton family," Norton said. Here's what happened to Gilliland after the show ended.
Richard Gilliland went on to marry a TV co-star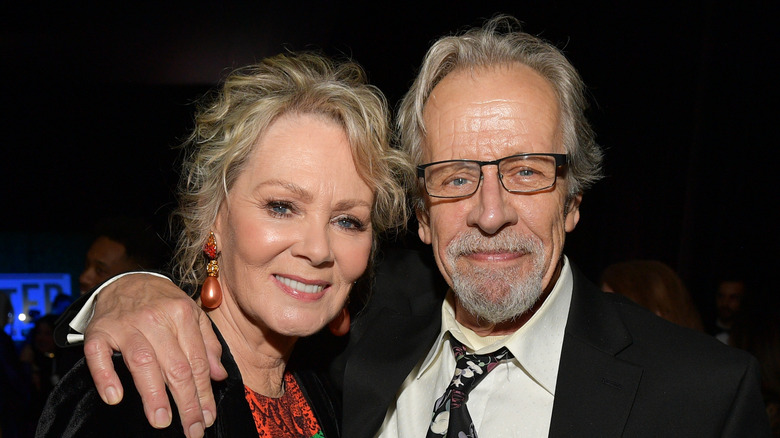 Matt Winkelmeyer/Getty Images
Following his stint on "The Waltons," Richard Gilliland became a regular on the short-lived ABC sitcom "Just Our Luck" in 1983. He also appeared on CBS' "Heartland" and the ABC drama "thirtysomething," but he had better luck when he landed a recurring role on "Designing Women" as J.D. Shackelford. Not only did he snag a part on one of the biggest sitcoms on television at the time, but he met his future wife in co-star Jean Smart. In June 1987, the two married in an outdoor ceremony hosted by fellow "Designing Women" couple Dixie Carter and Hal Holbrook, according to The Hollywood Reporter.
Thirty-four years later, Gilliland died unexpectedly on March 18, 2021, at age 71, after a brief illness, per People. Shortly after, Smart told The New Yorker that her late husband was "one of those actors who never got the chance to really show what he could do." "A couple of times onstage, he did," Smart said. "But he really sacrificed his career for me to be able to take advantage of my opportunities."
Gilliland's "Waltons" wife also paid tribute to him following his death. In April 2021, Judy Norton posted to her YouTube channel to reveal that she still has a little ceramic dog Gilliland gave her as a gift when they worked together four decades ago. "I will always remember Richard's smile," Norton said. "It was so evident in every episode. He was so enduring as a person, as a character, that he fit seamlessly into The Walton family. My only regret is he wasn't around to do more episodes."