Chris Pratt Was Given A Major Warning By NBC For This Parks & Recreation Stunt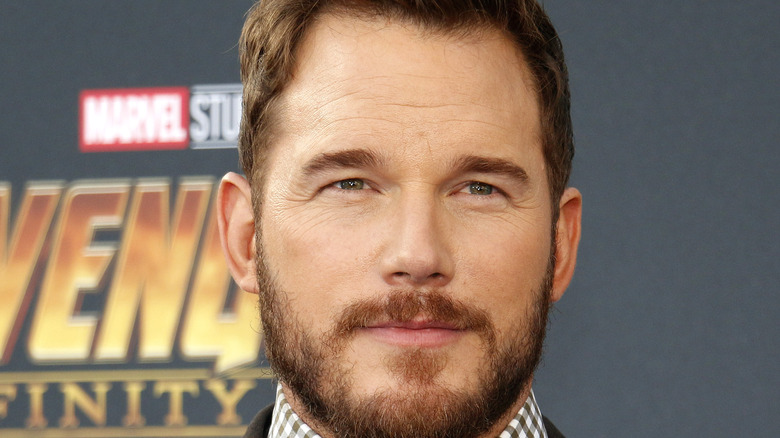 Tinseltown/Shutterstock
Over the last decade, everyday funnyman Chris Pratt has solidified himself as one of Hollywood's most sought-after leading men. The star has appeared in Marvel Studios' hit "Guardians of the Galaxy" franchise, voiced Emmet in the "The Lego Movie" films, and is headlining the "Jurassic World" trilogy, which is set to receive its third entry, "Dominion," later this year (via IMDB).
Before he was spearheading major blockbuster franchises, Pratt was best known for appearing in NBC's "Parks and Recreation." The series, created by "The Office" scribes Greg Daniels and Michael Schur, focuses on Leslie Knope (Amy Poehler) as she navigates the bureaucracy of the Parks and Recreation department in the small town of Pawnee, Indiana.
Pratt appears in the series as Andy Dwyer, originally the slacker boyfriend of Ann Perkins (Rashida Jones), Leslie's best friend. Dwyer eventually gets his act together and becomes April Ludgate's (Aubrey Plaza) husband, an integral member of the Parks and Rec department, and a children's television star. 
"Parks and Recreation" called it curtains in 2015, just as Pratt's Hollywood status was taking over. While the series served as a great starting point for the actor, it also featured one of his lowest points, which led to NBC sending him a stern warning.
Chris Pratt got in trouble for going nude on set
One of Chris Pratt's biggest blunders on the set of "Parks and Recreation" is getting in trouble for a nude prank. Speaking with The Graham Norton Show in 2015 (notably, before the #MeToo movement took off), Pratt detailed the incident and how it happened during a Season 2 scene he was shooting with Amy Poehler. For the scene, Andy Dwyer was set to show up at Leslie Knope's home naked, and Pratt was wearing skin-colored underwear. The underwear wasn't bringing the reaction he wanted, so he decided to jump into his birthday suit.
"It was late in the day so I decided to improvise and drop my trousers for the take. Her reaction was great and it's the take they used!" the star revealed to the British talk show host. While the reaction was priceless and made it to the air, NBC, the company behind "Parks and Recreation," was not pleased.
Pratt went on to confirm that NBC gave him a very strict warning for appearing nude in front of colleagues, "Then I got a letter from NBC's HR department that said, 'There is a protocol about nude scenes. This is not a joke and you are being reprimanded and you can't go around telling people about this like some kind of joke!'"
While the incident may have violated on-set protocol for the NBC series, Pratt then went on to reveal that he framed the letter. However, in the age now of intimacy coordinators and stricter guidelines around nudity on production in Hollywood, NBC was definitely right to reprimand the star at the time.