The Villain In Sons Of Anarchy That Vanished Without A Trace
For seven seasons, Kurt Sutter's Shakespearean biker drama "Sons of Anarchy" was the subject of blood, mayhem, and tragedy, ending in a famously divisive finale. As much as fans would have liked for Jax Teller (Charlie Hunnam) to get some semblance of a happy ending, his road is ultimately paved with pain and suffering from the very beginning to the very end. 
After Jax finds a manuscript from his father detailing the motorcycle club's many failings, he aims to find a way to make income with more legitimate business practices. However, this plan sets him up on a collision course with SAMCRO President Clay Morrow (Ron Perlman), a man who also happens to be his stepfather. Clay, along with Jax's mother, Gemma (Katey Sagal), employs numerous violent means to retain the club in his image. At every turn, Clay and Gemma stand in Jax's way, even going as far as to separate Jax from the only good force in his life, Tara (Maggie Siff). 
Of course, as if that isn't enough, those aren't the only plot points Jax is forced to contend with throughout the run of this series. The Sons of Anarchy are often up against some of the worst characters to walk the planet. Even though many of them certainly deserve to be put away permanently, some ultimately manage to escape without any consequence whatsoever. One character, in particular, taught Jax that some villains just get away with it.
Sons of Anarchy's worst villain leaves, never to be heard from again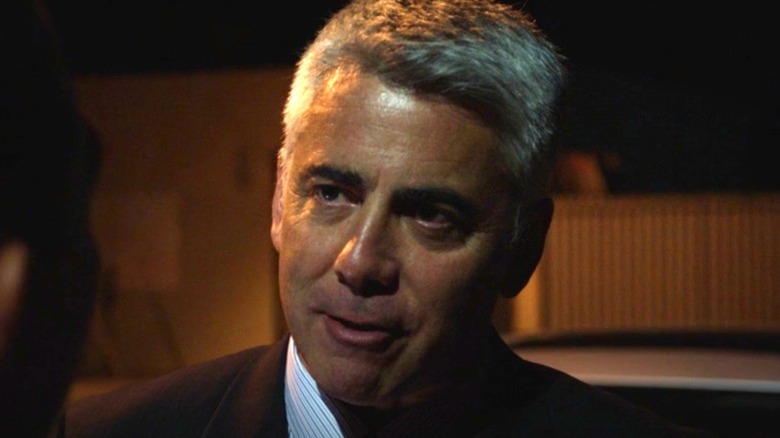 FX/Hulu
With the Sons involved in illegally running guns, they are no stranger to unsavory dealings. However, even groups of thieves and criminals have their standouts. One of the more despicable organizations that Jax encounters is the League of American Nationalists, a white-supremacist group led by Ethan Zobelle (Adam Arkin). Zobelle first arrives in Charming under the guise of opening a cigar shop, but his true intentions are revealed after he demands the Sons stop dealing with fellow M.C., The Mayans. 
Zobelle is so committed to his racist affiliations that he retaliates against the Sons by ordering his gang to assault Gemma. Of course, Zobelle's attack doesn't go without a response. By the season finale, it seems that Zobelle is within the Sons' grasp when they corner him in a deli. Unfortunately, in a sad twist of fate, Jax's son, Abel, is kidnapped, diverting the club's attention away from Zobelle and allowing his ignominious escape. Revenge always seems to be on the table for the Sons, so it seems odd that Zobelle actually makes his getaway entirely free and clear. 
Interestingly, "Sons of Anarchy" creator Kurt Sutter addressed this in a post on Twitter. "Sometimes ... the bad guy wins," Sutter replied to a question from a fan. "There's a lot of that going around these days."