Letitia Wright's Shuri Will Appear In Avengers: Infinity War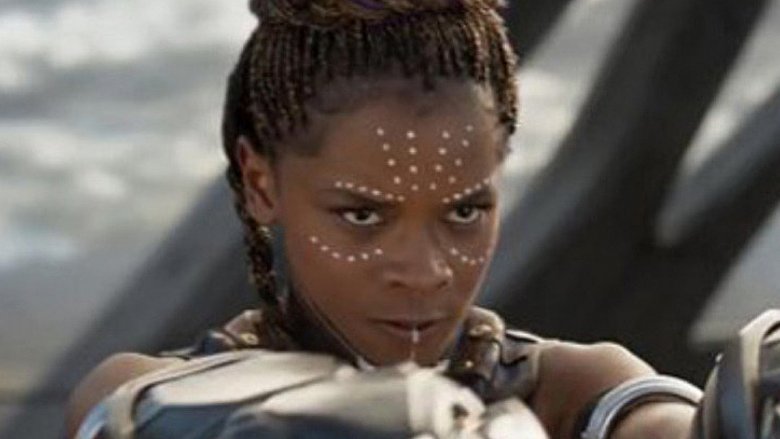 Another superhero will be making an appearance in Avengers: Infinity War. Letitia Wright, who is set to play T'Challa's (Chadwick Boseman) sister Shuri in the upcoming Black Panther, revealed on her Twitter over the weekend that her character will have a role in the upcoming team-up film. "Blessings," she wrote, as she retweeted an article from IMDb announcing her casting. "Super excited to be apart of this." 
Shuri isn't just a princess– she's also a tech expert, who makes weapons using like the badass Vibranium blasters she's shown firing off in the movie's teaser trailer. "She is also a genus and runs the entire Wakandan design group," Marvel Studios head Kevin Feige previously told Entertainment Weekly. "She's responsible for [the] amazing technological advances that Vibranium has brought about from Wakanda." 
With Shuri's close relationship with Black Panther and with her importance in furthering Wakanda's impressive technical resources, it makes sense that she will make an appearance in Infinity War. Feige has also said in the past that the events of Black Panther will play a large part in setting up Infinity War, which means that quite a few other Wakandans could show up in the film as well. (via The Hollywood Reporter)
Wright joins a long, long list of superstars set to appear in the upcoming film, which will introduce the likes of the Guardians of the Galaxy, Doctor Strange, and more to the already established team of Avengers. The movie is set to be so big that star Scarlett Johansson teased that one scene will feature over 30 characters at once. The movie's epic scale is also pushing it towards becoming one of the longest, if not the longest, MCU film to date.
The heroes are going to need all the help they can get, though, in fighting against a very villainous Thanos (Josh Brolin), who will be backed up by his lieutenants the Black Order. The movie, which precedes the untitled fourth Avengers film, is likely to mark a dramatic and tumultuous time in the MCU, with Mark Ruffalo accidentally revealing during an interview that not everyone might make it through the fight.
Avengers: Infinity War is set for a May 4, 2018 release.